Attention
Before you read this tutorial, I highly recommend you check out my resources page for access to the tools and services I use to not only maintain my system but also fix all my computer errors, by
clicking here!
When Windows Defender was first introduced to Microsoft's operating system, it was called Microsoft AntiSpyWare. As is suggested by its name, its main function was to protect the system from spyware programs. The responsibility of Windows Defender is to keep your system out of harm's way of these spyware programs, which is why it's crucial it's always up and running. There are better third-party security tools, but one thing Windows Defender offers is convenience, as it comes as a component of Windows Vista/7/8 and 8.1 systems. For those reading this post, it's fair to say that you're now bogged down with the error code 0x800106ba, which may have been caused by many different things, all of which I intend to discuss here.
Does this scenario ring a bell? You're using Windows Defender and you're greeted with the error code 0x800106ba. The scan you were carrying out is halted and you are forced to restart the program. Many people experience this issue right after a significant upgrade, either to Windows Defender tool itself, or the operating system. So what could be to blame for this, and is it possible to fix it yourself?
Another component available in Microsoft Windows is the Security Essentials tool, this tool is very similar to Windows Defender, it's primarily responsibility is to keep your system secure. Microsoft has designed things so that, when one of these tools is running, the other one is automatically disabled. Thus, if you wish to use Windows Defender, but have Security Essentials installed and running, then you'll be forced to remove the Security Essentials tool first. That said there are many people who believe that Security Essentials offers better overall protection, so you may want to consider making that switch.
I previously mentioned better third-party alternatives, and I'd just like to stress that, issues with Windows Defender can be quite numerous, which is why I'd suggest you considered possible alternative antimalware tools. SpyHunter 4 is probably the best around, and is the solution that I personally use, and you could have both solutions on your computer at the same time, so it's not a zero sum issue here.
Symptoms of Error Code 0x800106ba
Error code 0x800106ba occurs when the end user attempts to run or upgrade Windows Defender. The error message itself may appear as the following:
Error Code 0x800106ba: Application failed to initialize

Error Code 0x800106ba: The systems license has expired. Your logon request is denied.
Very daunting error messages, but it's important that you do not panic as there are viable solutions to fixing this error, just continue reading for those steps I have outlined below.
Error Causes
So why does this error occur? There are many reasons, with the most common being the following:
A third-party application is conflicting with Windows Defender.
You have two incompatible internet security tools running on your computer at the same time.
A DLL file is missing or corrupted.
A malicious file has infiltrated and corrupted important Windows files.
How to Fix It
There are tools and advanced solutions that you can utilise to fix this error. I've conveniently arranged everything in order of effectiveness and ease of execution.
Run a Virus Scan
There is a strong chance that a malicious file has gotten onto your system and corrupted files that Windows Defender requires when running and updating. Although viruses are not commonly to blame for the inability of a specific Windows component to run, there have been many instances where a malicious file has latched onto ones computer and corrupted enough files to at least cause error 0x800106ba.
Fortunately, it is possible to combat this, simply run a full scan of your system, using the antimalware tool SpyHunter 4. I've specifically recommended this tool because it is extremely thorough and highly adapt at not just detecting and removing malicious files, but also repairing previously damaged Windows components.
You can learn more about this tool from the link below:
CLICK HERE TO CHECK OUT SPYHUNTER
Run a Registry Scan
The Windows registry is another integral part of the operating system. The registry is essentially a virtual database system, used for storing all the most important data on both the hardware and software of your computer. It's the place where information about your desktop theme and screen settings are held, for example.
Unfortunately, this registry database keeps a lot of important system settings data, including data on all your DLL files. When these files and settings data are corrupted, it can result in severely degraded system performance and in other cases system errors, as in this situation.
Fortunately, it is possible to repair it, using a professional registry cleaner tool like RegCure Pro. Such a program will scan, detect and repair any infractions it finds. You can learn more about this tool from the link below:
CLICK HERE TO CHECK OUT REGCURE PRO
Reinstall Windows Defender
Sometimes a fresh reinstallation is what's required to fix corruption of files to a specific application. Unfortunately, it's not exactly possible to reinstall Windows Defender, as it is a component of Windows and not a standalone program.
However, it is possible to reinstall its files. To do that, you will need to reinstall your Windows operating system files. There are several ways that you can do this, but I personally recommend you use the Windows Repair tool called Reimage. This tool will automatically scan, detect and replace all your Windows files, including its components; it'll also scan your files for viruses and repair any and all errors you've encountered on it up to date.
Anyway, you can acquire this powerful tool from the link below:
CLICK HERE TO CHECK OUT REIMAGE

The solution(s) below are for ADVANCED level computer users. If you are a beginner to intermediate computer user, I highly recommend you use the automated tool(s) above!
Uninstall Third-Party Antivirus Program
If you have a secondary third-party antivirus tool running on your computer, but would like Windows Defender to be you're primarily solution, then you may need to either uninstall or disable your third-party tool.
Make sure you remove all traces of the program during the uninstall phase. I'd recommend using an installation tool like Max Uninstaller to do it. You can download said tool from the link below:
CLICK HERE TO CHECK OUT MAX UNINSTALLER
Alternatively, you can check out my post on uninstall problems, for step-by-step instructions on how to remove all traces of a program manually.
Disabling the third-party tool may also work, but in some cases it may not be enough, which is why I say uninstalling it is your best option.
Re-Register DLL Files
Another thing that could be causing error code 0x800106ba is references to the DLL files required by Windows Defender being removed from the registry. Fortunately, it is possible to put these references back into the registry, simply by doing the following:
1. First, boot into your computer with full administrative rights.
2. Then press

+ R, type cmd and click on OK.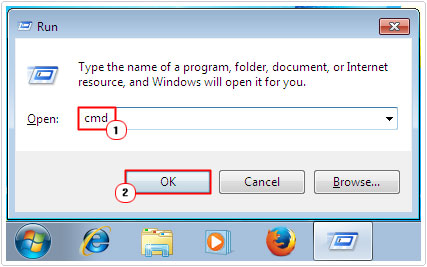 3. Once Command Prompt loads up, type regsvr32 filename.dll, and then hit Enter.

You will need to re-register all of the DLL files below. So for each DLL file, simply replace filename.dll with the following DLL.
regsvr32 wuaueng.dll
regsvr32 wucltui.dll
regsvr32 softpub.dll
regsvr32 wintrust.dll
regsvr32 initpki.dll
regsvr32 wups.dll
regsvr32 wuweb.dll
regsvr32 atl.dll
regsvr32 mssip32.dll
4. Once you've done them all, restart your computer.
Set Windows Defender to Automatic
Because Windows Defender needs to be continuously updated to ensure it has the latest virus definitions to protect your system, setting it to automatic will ensure that it is loaded into the OS, as and when required. To change its startup type, simply do the following:
1. First, log into your computer with administrative rights.
2. Then press

+ R, type Services.msc and click on OK.
3. Once Services loads up, double click on Windows Defender.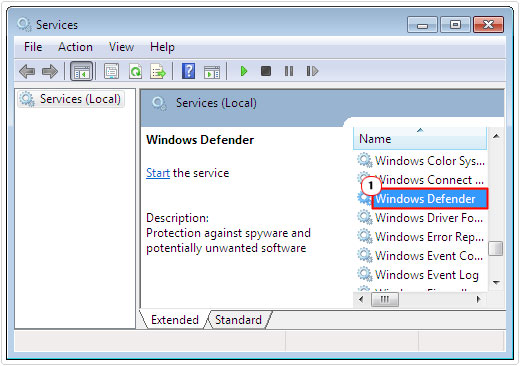 4. This will bring up the Windows Defender Services applet, from here, set Startup type to Automatic, and then click on OK.
This should resolve the error, as Windows Defender should now be able to update itself without any issues.
Are you looking for a way to repair all the errors on your computer?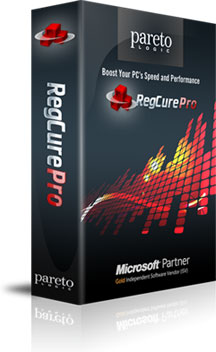 If the answer is Yes, then I highly recommend you check out RegCure Pro.
Which is the leading registry cleaner program online that is able to cure your system from a number of different ailments such as Windows Installer Errors, Runtime Errors, Malicious Software, Spyware, System Freezing, Active Malware, Blue Screen of Death Errors, Rundll Errors, Slow Erratic Computer Performance, ActiveX Errors and much more. Click here to check it out NOW!