Attention
Before you read this tutorial, I highly recommend you check out my resources page for access to the tools and services I use to not only maintain my system but also fix all my computer errors, by
clicking here!
For end users that encounter this error, the scenario typically goes something like the following:
You've been using your 64-bit operating system for a while now, up until Windows Defender suddenly stops working. There appears to be no real reason why that is. However, whenever you attempt to start Windows Defender you receive the error code 0x80073b01.
Well, let me start by saying that Windows Defender is a built-in component of the latest Microsoft Windows operating systems. The purpose of this tool is to protect your system from spyware, viruses, adware and other malicious activity. However, like with all tools, it's not without its problems, and occasionally, it can inherit issues, such as a refusal to start, while showing the error code 0x80073b01.
This particular error code refers to a critical Windows error, which, given the circumstances and importance of the application, should be fixed as soon as possible.
I shouldn't have to tell you that while your locked out of Windows Defender your system will become more vulnerable to malicious files and computer intrusion. If you have confidential data saved on your computer, then this information becomes increasingly more vulnerable to malicious attacks and files. So that's the main reason why you'd want to repair this issue.
Symptoms of Error Code 0x80073b01
Error code 0x80073b01 essentially locks you out of Windows Defender, making your system vulnerable to viral infections and the following issues:
High CPU usage
Degraded system performance
Intermittent internet connection
Random system shut downs
Issues installing new applications
What Causes This Error?
Error code 0x80073b01 occurs when the Windows Defender application becomes damaged; this may be due to corruption within the registry or a misconfigured application file. Pretty straightforward, however it can prove to be quite tricky solving this problem, that's why I feel prevention is always your best option.
Preventative Tips
Here are a number of suggestions that I recommend end users adopt, once they successfully repair this tool in order to prevent future incidences:
Avoid opening unsolicited emails and clicking on ads or downloading attachments in such emails.
Stay away from websites that inundated you with pop-up ads.
Make a habit of constantly updating all the internet security software installed on your computer.
Always download tools and applications from their official websites.
How to Fix It
Although fixing this error can prove to be somewhat tricky, professional skills is not necessarily required, though some methods can prove to be more complex than others. Below I have provided you with a number of solutions; I suggest you adopt the method(s) you feel most comfortable using.
Run a Registry Scan
This error is usually the result of corruption within the registry, however, not everyone has the expertise or confidence to manually enter their registry and make changes where applicable. This is where automated registry repair tools come into play. These programs are designed to scan the entirety of the Windows registry and fix any errors it encounters. These tools are also capable of improving the overall performance of your system in the process.
With that said, of the various tools out there, I'd recommend that you used RegCure Pro to repair this error. This is because it's powerful, capable of repairing a plethora of computer issues, able to thoroughly scan the registry and locate corrupt entries, missing file references, etc. This tool also comes with various optimisation features, such as file shredding, disk defragmenter and much more, making it multifaceted in nature.
You can download this tool from the following link:
CLICK HERE TO CHECK OUT REGCURE PRO
Run a Malware Scan
Another possible cause of this error on your system is a malicious file, which has infected your machine and intentionally halted or corrupted files integral to Windows Defender. In a situation like this, you'd want to remove the malicious file(s) from your computer using a reliable antivirus scanner. For this particular task, I'd suggest you used SpyHunter, and that's because of its efficiency, and ability to repair previously damaged Windows component.
You can download SpyHunter from here:
CLICK HERE TO CHECK OUT SPYHUNTER

The solution(s) below are for ADVANCED level computer users. If you are a beginner to intermediate computer user, I highly recommend you use the automated tool(s) above!
Reinstall Windows Defender
However, once you have successfully removed the malicious file(s) from your computer, there is a good chance that Windows Defender will still refuse to run. This is because of the corruption to the tools application files. The only way to fix this would be to reinstall the component. Fortunately, this can be done, by doing the following:
Note: This method works exclusively on Windows 7. For Windows 8/8.1/10 users, a simple system restart is the best you're going to get.
1. First, boot into your computer with full administrative rights.
2. Then press

+ R, type C:\Program Files\ and click on OK.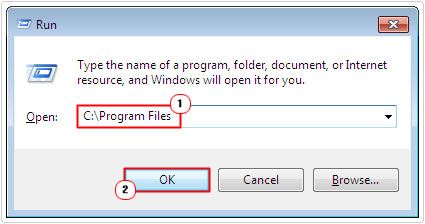 3. Once Program Files loads up, right click on the Windows Defender folder, click on Delete then click on Yes.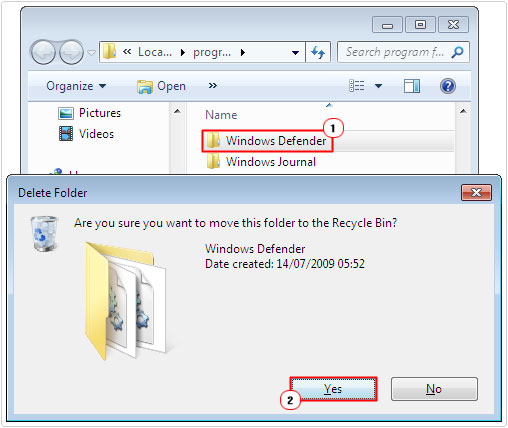 Note: You will need to disable Windows Defender before you can remove its application folder. For step-by-step instructions on how to do that, I suggest you check out my post on MSASCui.exe errors.
4. Once you have successfully removed Windows Defender, you will need to download and reinstall the application. You can acquire the installation files from here: https://support.microsoft.com/en-gb/help/14210/security-essentials-download
Edit the Registry
As I previously stated, error code 0x80073b01 occurs mostly because of corruption within the registry. Fortunately, there is a known manual fix, which will require you to enter the registry.
WARNING: Tread with caution when accessing the registry, as the accidental deletion of the wrong registry entry can render your system inoperable.
1. First, boot into your computer with full administrative rights.
2. Then press

+ R, type regedit and click on OK.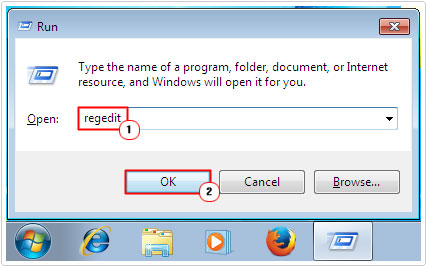 3. Once Registry Editor loads up, navigate to the following path:
HKEY_LOCAL_MACHINE\SOFTWARE\Microsoft\Windows NT\Current Version\Image File Execution Options\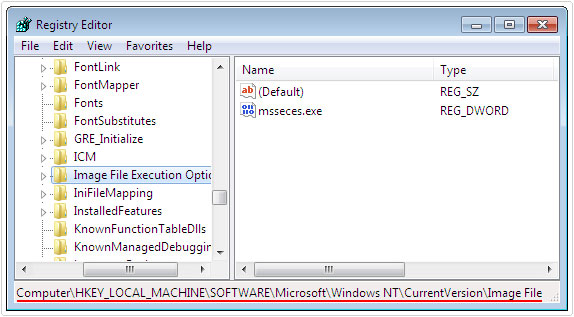 4. Once there, delete the entry msseces.exe by right clicking on it and selecting Delete.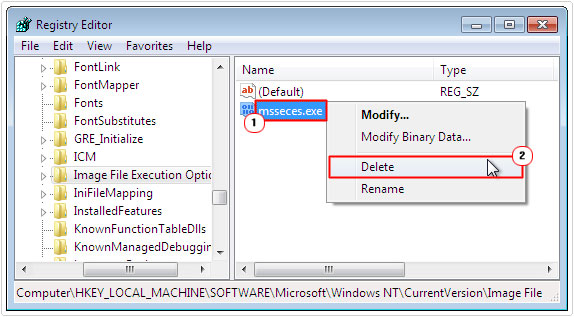 5. Then navigate to the next path:
HKEY_CURRENT_USER\Software\Microsoft\Windows\Current Version\Policies\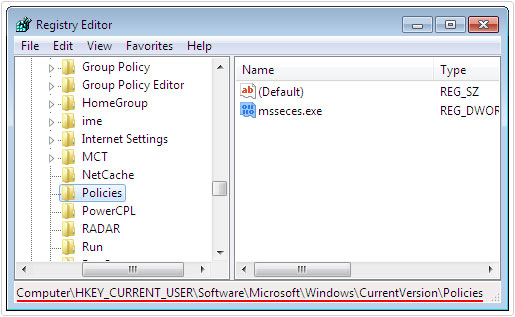 6. Here, you'll want to delete the entry msseces.exe, by right clicking on it and selecting Delete, just like you did on the previous path.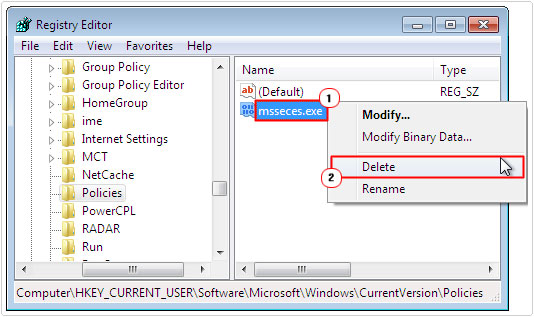 7. Lastly, restart your computer and try and open Windows Defender.
Run System File Checker
System File Checker (SFC) is a tool designed to scan and verify the integrity of the most important files on your computer. This tool is built into Windows and is designed to repair damaged or corruption to any important system file.
If error code 0x80073b01 is the result of corruption of a system file required by Windows Defender, then this tool will fix it.
Running this tool is fairly simple; the end user need only do the following:
1. First, boot into your operating system with full administrative privielages.
2. Then press

+ R, type cmd and click on OK.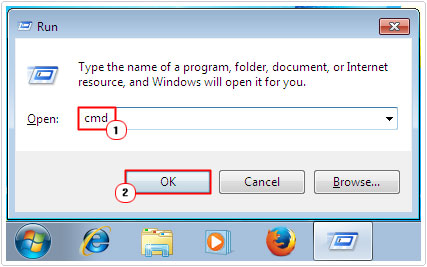 3. Once Command Prompt loads up, type sfc /scannow and press Enter.

Note: System file checker MAY prompt you to enter your Windows CD into your CD ROM drive, so make sure you have this disc on hand.
Are you looking for a way to repair all the errors on your computer?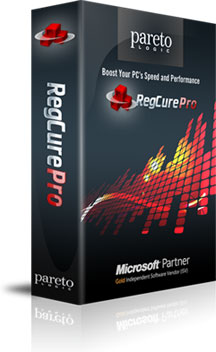 If the answer is Yes, then I highly recommend you check out RegCure Pro.
Which is the leading registry cleaner program online that is able to cure your system from a number of different ailments such as Windows Installer Errors, Runtime Errors, Malicious Software, Spyware, System Freezing, Active Malware, Blue Screen of Death Errors, Rundll Errors, Slow Erratic Computer Performance, ActiveX Errors and much more. Click here to check it out NOW!