Attention
Before you read this tutorial, I highly recommend you check out my resources page for access to the tools and services I use to not only maintain my system but also fix all my computer errors, by
clicking here!
Windows Update as a component does have its issues, but as a feature of the operating system, it works fairly well. Only at odd occasions do we witness any sort of problems.
When it comes to Windows Update error 0x80240017, it's an issue that many users encounter, usually when they are attempting to either update the operating system or a specific program within it, such as Microsoft Office. If you've faced this error, I'm more than certain that you, at the very least, tried restarting your computer, but to no avail; as it's a little more complicated than that, so do continue reading for the solutions that actually work.
Error 0x80240017, as far as errors goes is relatively common. It occurs most often when attempting to either update or install a Windows application from the Windows app store or Microsoft Office (as previously mentioned). The error will indicate that an update or upgrade is not available for your version of Windows.
The error message will usually look something like the following:
There was a problem installing some updates, but we will try again later. If you keep seeing this and want to search the web or contact support for information:
Update for the Microsoft Office (KB2965253) – Error 0x80240017: Failed to execute MSU package

Error 0x80240017 occurs on all versions of Windows; however, on Windows 8 and 8.1, there does tend to be slight differences.
On Windows 8/8.1 error 0x80240017 will usually occur right after a significant system change, due to the installation of a third-party application, for example, or it may occur after the Windows registry has been heavily altered following a system reboot, without the necessary user permission. Repairing this issue isn't much different from the other instances of this error, fortunately.
Common Symptoms
Windows Update error 0x80240017 has a number of commonly associated symptoms. These include the following:
When attempting to install a Windows Store app on Windows 8.1 the installation will fail, and the end user presented with the 0x80240017 error message.
Certain programs become sluggish and unresponsive.
The end user will be unable to update Windows or download new apps (through Windows components).
You may be unable to install, uninstall or update other built-in Windows apps on Windows 8/8.1 systems.
If you have multiple applications running at the same time, you may experience frequent freezing and random crashing.
Error Causes
When it comes to 0x80240017, there are several reasons why it may and typically does occur on your system. The most common are the following:
An important system file has been deleted or corrupted.
Your system has been infected with a malicious file.
One or more of your hardware components (RAM) is faulty.
The hardware has become fragmented, due to the indiscriminate installation of Window applications.
How to Fix It
Repairing error 0x80240017 is not too difficult, as there are several solutions available to you. I've arranged the various solutions in order of complexity, with the easier solutions placed on the top.
Run a Registry Scan
I'm always doing my utmost to find the best possible solutions for any error you may encounter on your computer system. If you're a beginner to intermediate computer user, then it's fair to assume that you won't want to be bogged down with the numbers manual repair solutions outlined below.
Fortunately, Windows Update error 0x80240017 is commonly the result of corruption within the registry. The registry, if you don't know what it is, is the main central database of the operating system, used for storing all the most important hardware and software data. Thus, corruption within this area of the computer can render certain applications and hardware components inoperable.
The good thing is that it is possible to repair this area of your computer, using a professional registry cleaner tool like RegCure Pro. This tool will scan, detect and repair any problems it finds. It'll also optimise your system in the process, removing any and all redundant, malicious and fragmented files.
You can download this powerful tool from the link below:
CLICK HERE TO CHECK OUT REGCURE PRO
Repair Windows
Another method that you can use to promptly repair error 0x80240017 is to carry out a Windows repair, using several different methods, I'll elaborate further on.
The first method you can use, involves your Windows CD and registration, simply put the Windows CD into your CD-ROM drive and follow the onscreen instructions. The second method involves using the Reset, Refresh, Restore feature, which is only available on Windows 8/8.1/10 systems.
The last method and the method that I actually recommend, involves using Reimage, which is a Windows repair tool, to scan and replace all Windows files on the fly, while carrying out full maintenance checks, such as virus and optimisation scans.
Reimage is a very powerful tool, and the way to go, for most computer users. You can learn more about this tool from the link below:
CLICK HERE TO CHECK OUT REIMAGE

The solution(s) below are for ADVANCED level computer users. If you are a beginner to intermediate computer user, I highly recommend you use the automated tool(s) above!
Reboot Windows Store
If you're running Windows 8/8.1 and the error occurs every time you attempt to use the Windows store, you should try fixing the problem by restarting the component. You can do that, by doing the following:
1. First, boot into your computer with an administrative account.
2. Then press

+ R, type wsreset.exe and click on OK.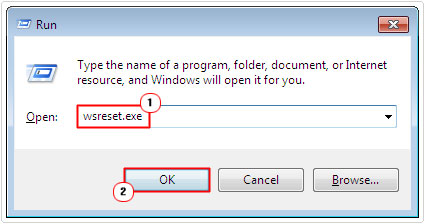 3. You may need to wait several moments for the reboot process to complete.
Once it has finished, you should try using Windows Store to download the application again. This method tends to be very efficient at fixing the Windows 8/8.1 version of this error.
Use Windows Troubleshooter
Windows Troubleshooter is a built-in troubleshooting tool, effective at rectifying many Windows issues and errors. You need only start it up and run through a setup wizard and it will do the rest.
For step-by-step instructions on how to start and use this tool, I recommend you check out my post on Windows Defender Error 0x80004004.
Empty Windows Update Folder
This method entails emptying out all the data in the Windows Update folder. The reasoning behind this is that, the problems you are experiencing (with the Update) could be the result of corruption within this folder. The operating system may be unable to properly access the folder, the downloaded file(s) may have been corrupted, and the folder could contain a virus. There are many reasons why you may want to give this method a try.
Note: This method is quite complicated, so if you don't feel comfortable access and deleting Windows files, you may want to bypass it.
With that said, I have provided step-by-step instructions on how to carry this method out on my post on Windows Update Error 0x80246007.
Use System Update Readiness Command
When you run the System Update readiness command, it will detect and replace any corrupt data within the Windows registry, which should resolve the error.
Note: The professional registry repair tool RegCure Pro is also capable of carrying this out.
Anyway, simply do the following:
1. First, boot into your computer with the appropriate administrative rights.
2. Then Press

+ R, type cmd and click on OK.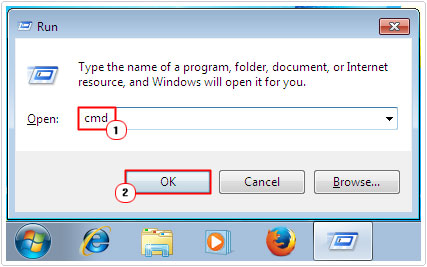 3. Once Command Prompt loads up, type DISM.exe /Online /Cleanup-Image /RestoreHealth /Source:C:\RepairSource\Windows and press Enter.

Note: Replace C:\RepairSource\Windows with the location of the repair data, which can either be a Windows cache folder or data from your Windows CD.
Are you looking for a way to repair all the errors on your computer?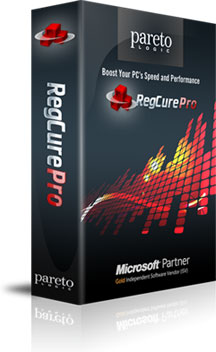 If the answer is Yes, then I highly recommend you check out RegCure Pro.
Which is the leading registry cleaner program online that is able to cure your system from a number of different ailments such as Windows Installer Errors, Runtime Errors, Malicious Software, Spyware, System Freezing, Active Malware, Blue Screen of Death Errors, Rundll Errors, Slow Erratic Computer Performance, ActiveX Errors and much more. Click here to check it out NOW!