Attention
Before you read this tutorial, I highly recommend you check out my resources page for access to the tools and services I use to not only maintain my system but also fix all my computer errors, by
clicking here!
This particular error is fairly common amongst all versions of Microsoft Windows, so hopefully the information contained in this post will help you resolve your particular problem.
The 0xC0000005 Access Violation error is very broad as it encompasses a number of different problems. Due to this reality, you will be required to try an assortment of solutions to rectify your problem.
When the 0xC0000005 Error Occurs
Typically, when the error occurs, you will receive the following message:
"An application error has occurred and an application error log is being generated. Exception: access violation (0xC0000005), Address"
This message will usually appear after you have attempted to run an application in Windows. After you close the error message applet, it will usually terminate the application, prohibiting you from running it. The 0xC0000005 error code may also appear in other error messages, depending on the particular application you are trying to run or install on your system. This error may also appear when attempting to perform specific functions or run inbuilt operating system tools, such as the disk defragmenter.
The cause of this error is numerous; however the most common are malware infections, registry corruption, corrupt device drivers and faulty memory. An incorrectly installed Windows security update is also known to cause this error.
In the past, the Symantec Antivirus tool was known to cause this error. Users would be greeted with an error message that would refer to a SAVRT.SYS file; a simple update was all that was required to fix the problem however.
Fixing the 0xC0000005 error
Because of the unique nature of this error, it not being clearly defined and so, referring to a plethora of problems. The number of solutions are equally as numerous. Thus, I highly recommend that you try all the solutions I've mentioned below, until you find something that works for you.
Run Registry Scan
This error is often the result of poor system maintenance and a corrupted operating system registry. Corruption in the registry is typically due to the installation and uninstallation of programs; this is especially so when users install programs over other programs without deleting them first.
In order for you to rectify this problem, you would have to access your registry and remove all the duplicate and redundant entries within it, but that's a procedure that can be very complicated and long-winded. Other implications of altering your registry, is the prospect of rendering your computer inoperable; that's if you accidently delete the wrong entry. This is where registry repair software comes in handy, as it automates the entire process. Users need only download, install and click on start for the program to scan and remove inappropriate entries.
There are many different registry repair tools out there, but I personally recommended RegCure Pro, primarily because of its multifaceted nature, its ability to remove malware, enhance system performance and repair your registry. You can find out more about this product here:
CLICK HERE TO CHECK OUT REGCURE PRO
Run Virus Scan
If you have a virus on your computer, then the 0xc0000005 error you are receiving could be a symptom of it. If you suspect that there may actually be a virus on your computer, then you will want to run a full virus scan of your system immediately. If you don't already have an antivirus program running on your computer, then I highly recommend you use SpyHunter, alternatively you could check out my post on the best antivirus tools.
For more information on SpyHunter, please visit the following link:
CLICK HERE TO CHECK OUT SPYHUNTER

The solution(s) below are for ADVANCED level computer users. If you are a beginner to intermediate computer user, I highly recommend you use the automated tool(s) above!
Corrupt Video Card Drivers
Sometimes users will get the 0xc0000005 error, right after they have updated their video card drivers. If this is when the error first occurred for you, then I recommend you rollback to your previous drivers; which is a fairly simple process. However, if you don't know how to do it, then I suggest you check out my post on repairing ati2dvag.dll errors.
Corrupt Printer Drivers
Sometimes this error is due to an incompatibility issue between the printer profile and the settings of a program that you are attempting to use it on. If the problem occurs every time you try to use your printer, then I recommend you reinstall your drivers.
For more information on how to do this, I suggest you check out my post on fixing printer spooler errors.
Disable Data Execution Prevention (DEP)
Data execution prevention (DEP) was first introduced in Windows XP Service Pack 2; it is basically a set of software and hardware technologies that are designed for making additional checks to the memory in order to protect it from viruses. From Windows XP SP2 and onwards, the DEP is enabled for both applications and hardware components.
The reality is that there are some applications that aren't fully compatible with DEP. Applications that use a technique called dynamic code generation, and don't mark these generated codes with an execute permission, will typically have issues with DEP. Applications that were developed without SafeSEH are also prone to problems when DEP is enabled on the operating system.
When an application violates the DEP, the user will receive the STATUS_ACCESS_VIOLATION (0xC0000005) error message.
If you think the 0xC0000005 error you're receiving is due to the DEP, then you have two options. The first is to contact the owner of the application you're having problems with and ask them for a resolution. The second option is to disable DEP for the application that is giving you the error; this can be done by doing the following.
1. First, ensure you've logged into your computer with full administrative rights.
2. Then click on Start -> Run [Windows Vista/7: Press

+ R], type sysdm.cpl and click on OK.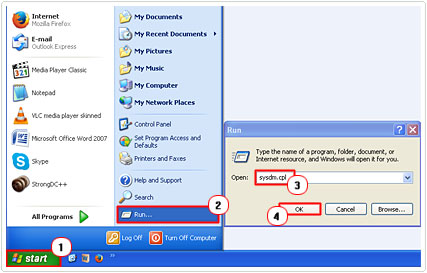 3. This will bring up System Properties, from here, click on the Advanced Tab, followed by Settings under Performance.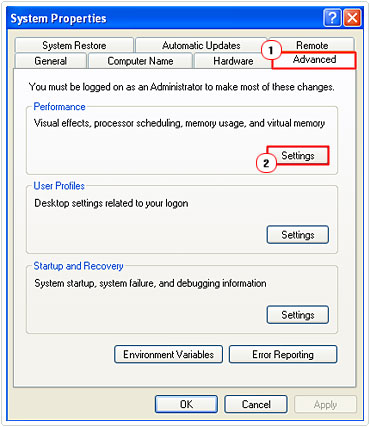 4. A Performance Options applet will pop up, from here, click on the Data Execution Prevention Tab, then click on  for all programs and services except those I select, then click on Add.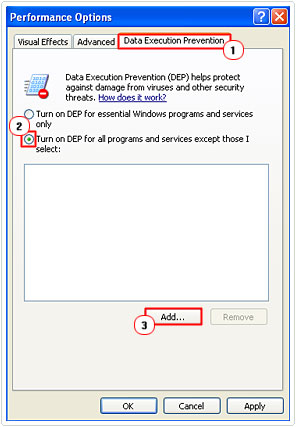 5. An Open applet will load up, simply navigate to the exe file of the program that's giving you problems, select it, and then click on Open.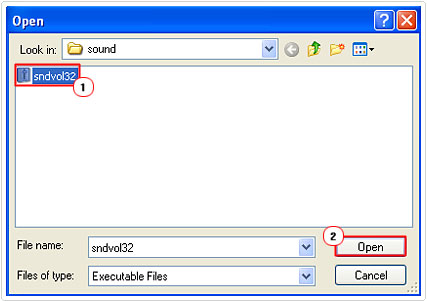 6. Once you've done that, click on Apply, then OK.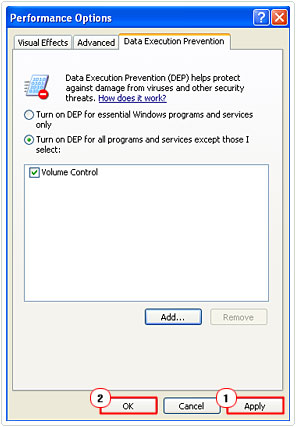 Faulty RAM
There are times when a 0xc0000005 error may be due to faulty RAM (Random Access Memory). If you have recently installed new memory into your computer, then that should be your primary culprit, simply remove the memory, and then check whether the error has gone away.
If you haven't recently added new memory to your computer, then you may want to consider conducting a test on the memory modules, to check whether they are stable. For more information on how to do this, I suggest you checkout my post on PC stress test applications.
Update Internet Explorer 6.0
Does Internet Explorer appear to freeze whenever you attempt to open specific web pages; is this application freeze accompanied by an Access Violation 0xC0000005 error code?
This particular program typically occurs when you attempt to open web pages that have the SPAN tag in them. If the SPAN tag is not properly closed (using ) in the html, then the user will receive an access violation message. The solution to this is to update Internet Explorer to the latest version.
You can download the latest Internet Explorer from here: http://windows.microsoft.com/en-gb/internet-explorer/download-ie
Remove Windows Update KB2859537
If the error message started to appear right after you updated your operating system, then it's recommended that you locate the KB2859537 update and remove it (assuming it's on your computer). If you cannot find it, then just remove the last security update you downloaded.
For a full tutorial on how to remove Windows Updates, I suggest you check out my post on repairing Ntdll.dll errors.
Use System File Checker
If all the methods above failed, then you may want to consider running system file checker, as a last result. This tool is designed to scan your computers system files and replace any that are corrupt or missing. The chance of this tool fixing this particular problem is slim, but it's still worth a try. For instructions on how to run this tool, I suggest you check out my post on repairing Winsock errors.
Are you looking for a way to repair all the errors on your computer?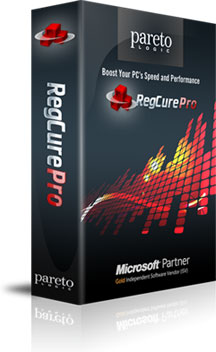 If the answer is Yes, then I highly recommend you check out RegCure Pro.
Which is the leading registry cleaner program online that is able to cure your system from a number of different ailments such as Windows Installer Errors, Runtime Errors, Malicious Software, Spyware, System Freezing, Active Malware, Blue Screen of Death Errors, Rundll Errors, Slow Erratic Computer Performance, ActiveX Errors and much more. Click here to check it out NOW!