Attention
Before you read this tutorial, I highly recommend you check out my resources page for access to the tools and services I use to not only maintain my system but also fix all my computer errors, by
clicking here!
Windows Media Player is a media library and media player application, developed by Microsoft, used for both playing videos and audio files.
The error C00D1199 appears when Windows Media Player is incapable of reading the file the user as attempted to play. The error code will usually be displayed in the following fashion:
C00D1199: Cannot play the file
The error can be caused by a number of different things, such as file corruption and incompatibility (a result of the player lacking the required codecs to play the file). Fortunately, there are many different things you can do to fix this problem, all of which will be outlined in this post.
What Causes Error C00D1199?
The error C00D1199 can be caused by so many different things (as previously mentioned), however of the various causes, the most common are:
The user attempting to play a file that isn't supported by Windows Media Player.
The Windows Media Player lacking the required codec(s) to play the file(s).
System registry errors preventing Windows Media Player from working correctly.
The sound controller drivers are corrupted.
The file the user is attempting to play is corrupted.
The user attempting to play a DVD file without the required compatible DVD plug-in.
The user attempting to play the file in Windows Media Player in a manner it was not intended to be played.
The installation of Windows Media Player was corrupted or incomplete.
Another program on the system has accidently deleted integral Windows Media Player files.
There are so many different things you can do to fix this error, including downloading and installing the most up-to-date codecs, changing your output audio device, and running a full scan of your system registry; that amongst several other things. Knowing the cause of the error is very important, as the solution will be influenced heavily by such information.
How to Fix It
When it comes to fixing error C00D1199, the first thing you will need to do is establish why the error is occurring. Once you've done that, the solution will become clear. Below, are a number of solutions that many individuals in your situation have used to combat this common issue!
Check Output Device
The error C00D1199 is often the result of Windows Media Player attempting to play audio out of the wrong audio device, the result of having the incorrect or several different audio devices selected for the Media Player. Anyway, to fix this problem, simply do the following:
1. First, boot into your computer with administrative rights.
2. Then swipe in from the right hand corner of the screen and click on Search. [Windows Vista/7: Start -> Type Windows Media Player (into the Search programs and files box) and click on Windows Media Player].

3. The Search function should appear, type Windows Media Player into the Search Box and click on Windows Media Player in the results.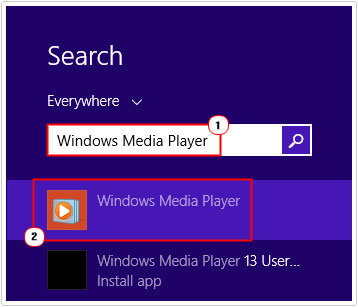 4. When Windows Media Player loads up, right click on the top bar and select Tools -> Options.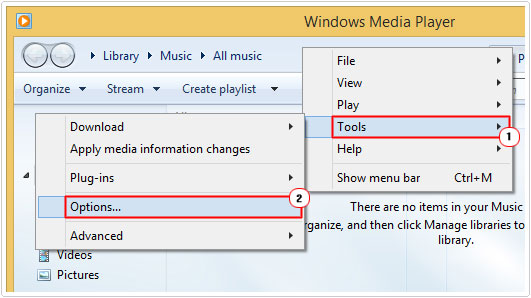 5. This will load up the Options applet, from here, click on the Devices Tab, and then double click on the Speakers Icon.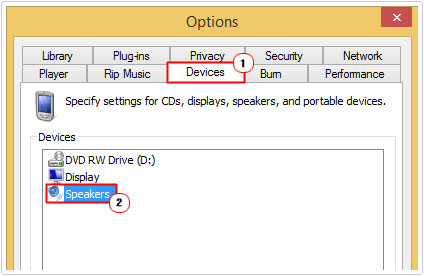 6. The Speakers Properties applet will appear, under select the audio device make sure the correct Sound Card or Sound Controller is selected, using the drop down list, then click on OK.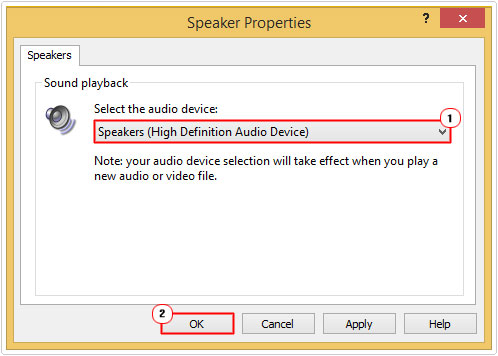 Download New Codecs
One of the most common causes for the c00d1199 error is due to the computer not having the required codec(s) to play the file. Codecs are basically small programs which allow your system to read different media formats.
Sometimes, when you attempt to run a particular file, it will ask for a specific plug-in to run that particular file, this is because the system lacks the appropriate codec.
The good thing is that codecs are free, with the All in One Codec Pack being the most comprehensive. So I recommend you give that one a download, from here: http://filehippo.com/download_codec_pack/
Save File to Computer
It's not uncommon for a user to attempt to load a file through the internet, which has inadvertently become corrupted. Situations like this, can lead to the c00d1199 error as a result of the players inability to play the content. The best way of getting around this problem is to download the audio or video file to your computer and play it from there.
Pressing the right button on your mouse and selecting save as; you can download the file(s) to your system.
Check File Type
It's very important that you have some understanding of the type of file(s) you're trying to open. It's not uncommon for users to attempt to open a file that is part of a series. If a file is part of a series, then you will need to download all of the corresponding files, in order to play the audio or video file. So keep that in mind.
Run Registry Scan
The Windows registry is essentially the database, a place where all the most important data is stored, such as Windows settings, configurations and options. The registry is the most important part of Windows, and is what most applications will refer to when attempting to carry out specific functions.
Unfortunately, because of the registries importance's, it makes it highly susceptible to corruption, which is a catalyst for a plethora or different problems for your system.
It's often the case that the Windows Media Player will attempt to read various files from the registry, and find that they are corrupted, thus prohibiting the player from carrying out its primary function.
As a solution, it's recommended that you regularly scan your registry for errors and file corruption, using a registry cleaner tool like RegCure Pro, which is a multifaceted application, with the ability to not only repair various computer errors, but also optimise system performance. Anyway, you can acquire this powerful tool from here: http://www.compuchenna.co.uk/go/regcurepro
Check Sound Card Settings
Another method that you can use to resolve the C00D1199 error involves checking your sound card settings. You want to ensure that everything is configured correctly, as an improper configuration can lead to all kinds of problems.
For more information on how to verify your sound card settings, I recommend you check out my post on fixing your computer speakers.
Update Drivers
If your sound card settings are configured as they should be, but the error still persists, then it's advisable that you look into updating your device drivers. Now, there is a good chance that the error could be due to one or more incompatible drivers on your system, which is why I recommend updating as many of them as possible.
When it comes to updating your device drivers, you have two options, the first is to manually visit the website of all the devices attached to your computer and locate, download and install the latest devices you find there.
The second is to use an automated driver updater tool like Smart Driver Updater, which will automatically search the internet and find all the latest drivers for all the devices attached to your computer, and install them. Personally, I recommend Smart Driver Updater, and that's because of its ease of use, efficiency and speed, as the manual option can be very time consuming and complicated, depending on your level of expertise. Anyway, you can download this powerful tool from here: http://www.compuchenna.co.uk/go/smartdriverupdater
Run Malware Scan
It's also possible for you to experience errors with the Windows Media Player when one or more of the program files are corrupted due to a virus infection. In order to fix and prevent such errors, it's important that you regularly scan your system using your antimalware tool.
If you do not have a security suite on your computer, then I recommend you check out my post on the best antimalware tools.
Use an Alternative Player
The file you attempted to load may simply be an unsupported format on Windows Media Player. That leaves you with only one option, to use an alternative media player. There are many of them around, but I personally recommend VLC Player, and that's because of its wide support for a number of different audio and video formats.
Are you looking for a way to repair all the errors on your computer?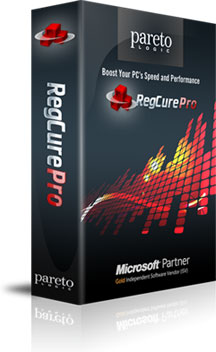 If the answer is Yes, then I highly recommend you check out RegCure Pro.
Which is the leading registry cleaner program online that is able to cure your system from a number of different ailments such as Windows Installer Errors, Runtime Errors, Malicious Software, Spyware, System Freezing, Active Malware, Blue Screen of Death Errors, Rundll Errors, Slow Erratic Computer Performance, ActiveX Errors and much more. Click here to check it out NOW!