Attention
Before you read this tutorial, I highly recommend you check out my resources page for access to the tools and services I use to not only maintain my system but also fix all my computer errors, by
clicking here!
The vast majority of applications that you use on your computer will generate an error at some point during its life cycle, and applications created by Apple, are not immune to this reality. The iTunes application is a tool used for a variety of purposes, such as to sync media to your iPad or iPhone, and also to restore or update your device(s).
That said it's not uncommon for the end user to come face to face with the iTunes error 3194 when attempting to update or restore their Apple device, the circumstances that you encounter this error in, does tend to vary, with some users report encountering it while attempting to update a jail-broken device, while others do not.
The iTunes error 3194 is an error that I also have experienced, while attempting to restore an iPhone device, I was repeatedly greeted with the error 3194 message. However, I was fortunate enough to overcome this nagging issue, through research and trial and error.
The solution that you find that works for you, may not necessarily be the same solution that I used, which is why I've taken the time to put together a plethora of methods that you can use to alleviate this problem.
With that said, I recommend you continue reading, for a step-by-step guide on how to successfully repair the iTunes error 3194.
What causes iTunes Error 3194?
For a lot of end users, error 3194 is the result of them using a jailbreak utility to modify the iOS of their device. It's during this process when the utility will usually make modifications to the operating systems hosts file in order to block the Apple servers. At the time of the update, that is not a problem, however it can and may become an issue when the end user later, tries to either update the iOS of their device, modify or backup their data. In most cases, the jailbreak application will remove any changes that it has made to the operating system after it has finished modifying your device; however, that isn't always the case.
That said, for those of you, who have never used a jailbreak utility (which is a great many of you), the cause of error 3194 for you, is likely one of the following:
The antivirus software on your computer is blocking iTunes access to the internet. Disabling your security software and attempting to restore, update or backup your device again, should be all that you need to do.
If you have a firewall program on your computer, it could be blocking certain files (on your computer) from accessing the internet. Disabling the firewall program and reattempting the process or simply, granting your iTunes application access to the internet (via the firewall) may be all that is required to fix this problem.
An intermittent internet connection on your computer may be what is causing the problem. If you're trying to update your Apple device through a University server or via a VPN proxy server, it may be blocking your access. Consider using the software without a proxy server and/or off campus.
If any of the causes outlined above are the culprits in your particular situation, then fixing the problem should be a breeze. However, if the proceeding suggestions were unable to help you, then I recommend you continue reading.
How to Fix It
I've written about the various things that are known to cause this error, now let me discuss the things that you can do to fix them. After thorough research, I found a number of solutions that many individuals, such as your-selves have used to fix this problem.
These solutions are said to work on both Windows and Mac based systems, despite the fact that I only have instructions for Windows operating systems. Just accept that the premise is the same, if you're on a Mac computer.
With that said, the solutions are to follow.
Edit the HOSTS File
The HOSTS file issue, as I previously mentioned is typically the result of using jailbreak software. In the event that such software is to blame for the error 3194 you are encountering, you can fix it, by doing the following:
1. First, you will need to boot into your computer with a user profile that has administrative privileges.
2. Then press

+ R, type C:\Windows\System32\drivers\etc\ and click on OK.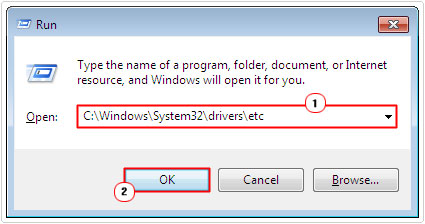 3. Once the etc folder loads up, double click on the Hosts file.
4. An Open With dialog box should appear; click on Notepad, and then click on OK.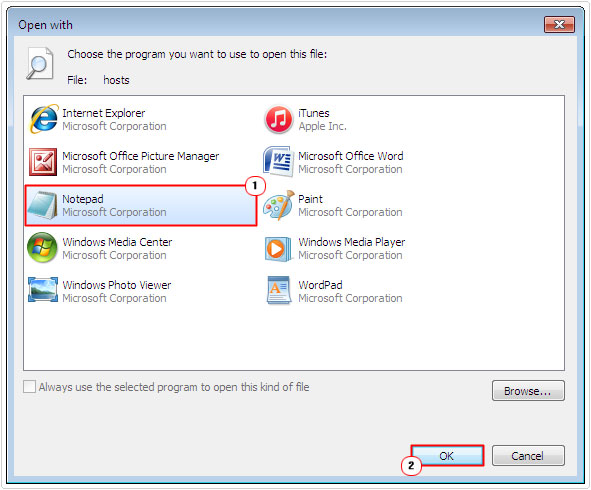 5. When you open the Hosts file, you should see a line of code that reads something like 74.210.104.170 gs.apple.com, simply delete it.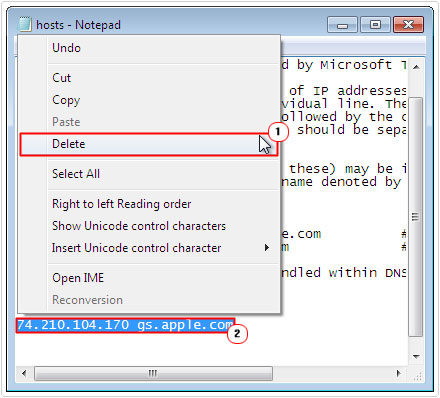 6. Then click on File -> Save, to save changes to the Hosts file.
Disable Firewall or Security Software
If there is no entry within the Hosts file, then the error is most likely due to the security software installed on your computer. I already wrote briefly on this. Disabling your security software will vary, depending on the brand and type of software you have on your computer, so I cannot give you direct instructions on that.
However, if you use Windows Firewall, I have a guide on that, which I think you should check out.
Ultimately, temporarily disabling it is what you want to do, usually by right clicking on its icon in the Taskbar and selecting Disable.
Check Firmware
The 3194 error also occurs when the end user attempts to update or upgrade the iOS on their device with an outdated firmware. If Apple has stopped signing the firmware version you have installed inside your Apple device, then you will be greeted with the 3194 error every time you attempt to update it.
Fortunately, fixing this problem is fairly simply; just download the iPhone/iPad software or firmware updater tool from Apple, and it will automatically update your device.
Use another Computer
If all of the solutions mentioned above failed to correct the problem, then you may want to try using iTunes on a different computer, ideally one with a fully functional internet connection.
Use TinyUmbrella
If iTunes fails to open or simply doesn't function as it should, then you can try an alternative application. TinyUmbrella is like iTunes in many regards, capable of restoring and updating the iOS on your Apple device.
Of course, it's not official software, which means you use it at your own risk. That said it is fairly popular, which means many people are currently using it, which minimises the chances of it actually damaging your Apple device.
For step-by-step instructions on how to use this software, I suggest you consort the provided help guides. Anyway, you can acquire this powerful software from here: http://tinyumbrella.org/
Are you looking for a way to repair all the errors on your computer?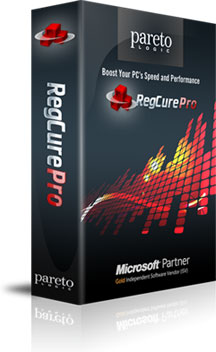 If the answer is Yes, then I highly recommend you check out RegCure Pro.
Which is the leading registry cleaner program online that is able to cure your system from a number of different ailments such as Windows Installer Errors, Runtime Errors, Malicious Software, Spyware, System Freezing, Active Malware, Blue Screen of Death Errors, Rundll Errors, Slow Erratic Computer Performance, ActiveX Errors and much more. Click here to check it out NOW!