Attention
Before you read this tutorial, I highly recommend you check out my resources page for access to the tools and services I use to not only maintain my system but also fix all my computer errors, by
clicking here!
The Bad Gateway Error 502 is one of many HTTP status codes. However, this particular code typically indicates that a server failed to receive a valid response from another server that it was attempting to communicate with, for the purpose of loading a web page.
This error is usually coming directly from the server, which means, in most situations, it has very little to do with your PC. As it may likely be the result of an overloaded site. Often times, simple things like reloading or refreshing the web page is enough to fix the problem, but there are also times when the problem can drag on for days.
In this particular situation, there are things you can do in order to bypass the error 502 and access the website. However, it's impossible to know whether or not any of the methods you deploy will actually work. Thus, you could end up wasting your time. Either way, it's always best practice for you to attempt to alleviate any errors you're faced with on your system.
Note: If the website is hosted on a Microsoft IIS web server, then the server will notify the user of the cause of the Bad Gateway error. This is done by adding an additional digit to the 502 error i.e. 502.1. With this additional information you can check Microsoft's knowledge database for the cause. A complete list of all the HTTP errors is available here.
Is It My System?
If a website stops responding, there are a number of things that you can do, but first, you must establish whether the error you are receiving is due to a fault on your system or on the website server. To do this, you should do the following.
Visit downforeveryoneorjustme.com, this particular website will tell you whether the website is working fine or has crashed. If it has crashed, then you know it's not only your system that is unable to access the site.
You should also check the cached version of the website in the search engine. This can be done by visiting Wayback Machine. Putting in the URL for the website, and then checking the cached snapshots for the current day.
If, while surfing the internet, you encounter the 502 error on every single website that you visit, then that can mean one of two things:
1. There has been some major equipment overload/failure on your ISPs end.
2. There's something blocking your connection to the internet, i.e. an application such as a firewall.
Fixing the Bad Gateway Error
This error is almost always due to a fault between servers on the internet, which means it's unlikely that there's anything that you can actually do to rectify the problem. However, because there is that possibility that it could be your computer, I've outlined a number of things that you can do immediately.
Check Cables and Wires
The first thing you're going to want to do is ensure that all your cables and wires are firmly in their respective positions. In addition to that, if you use a wireless adaptor to connect to your router, then you'll want to ensure that the antenna on the router is raised to a 90 degree angle. Also, take a look at your signal strength, as it will indicate to you, whether or not you're getting any interference.
Refresh Your Web Browser
The next thing you'll want to do is refresh your web page. This can be done either by clicking on the refresh button, which varies in appearance depending on which browser software you're using or pressing F5. In most cases, the 502 error is temporary which means, refreshing the web page, may be the only thing that you'll need to do to get things back up and running again.
1. On Internet Explorer the refresh button looks like this:

2. On Google Chrome the same refresh button looks like this:

3. On Mozilla Firefox, the refresh button should look like this:

Close and Open Web Browser
If you're not getting much success with refreshing the page, then you may want to consider closing the browser completely, then loading it up again.
1. This is a simple process of clicking on the X in the top right hand corner.

2. Then double clicking on the web browser icon, to restart it.
Clear the Cache
Still not having much success? Then you may want to think about clearing all of your browsers cache. This will remove your history, site preferences, offline website data, active logins and cookies. The process of clearing the cache varies, depending on which browser you're using.
Thus, for Google Chrome, I recommend you check out my post on speeding this browser up, for more details.
For Internet Explorer, see my post on how to prevent the browser from freezing, for more info.
For Mozilla Firefox, I suggest you follow the instructions below.
1. First, load up the browser by double clicking on the desktop Mozilla Firefox Icon.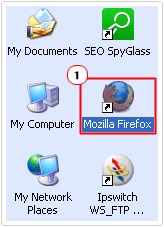 2. Once Firefox loads up, click on Tools -> Options.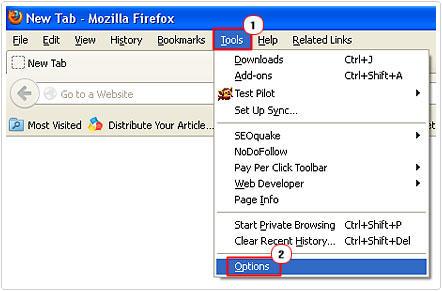 3. This will bring up the Options applet, from here click on the Privacy Tab, and then click on clear your recent history.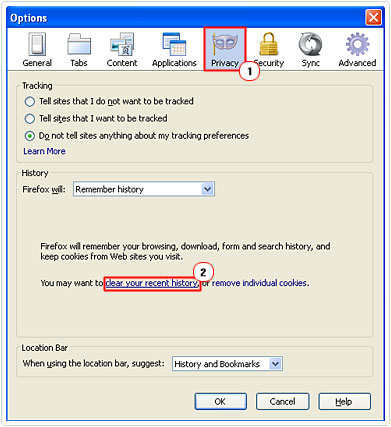 4. This will load up the Clear All History applet, simply select the item(s) you would like clear, by click on the corresponding boxes, and then click on Clear Now.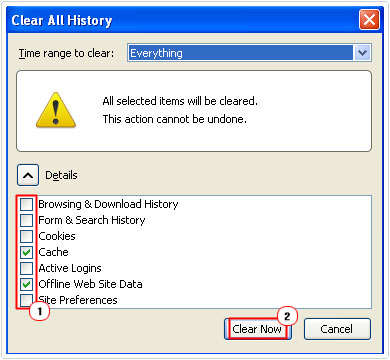 Start Browser in Safe Mode
When you run your browser in safe mode, you are essentially running the browser without any supporting extensions, toolbars or add-ons. Thus, if you run the browser in this mode, then attempt to open the web page that's giving you problems, and it works fine. Then you know the 502 error you're receiving is due to an extension running on the browser. In this particular situation, you'd have to disable each extension individually, in order to pinpoint which one is causing the problem.
To start your browser in safe mode, follow the instructions below.
Firefox
1. First, load up Firefox, by double clicking on its desktop icon.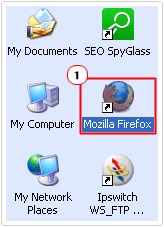 2. Then click on Help -> Restart with Add-ons Disabled.
3. Then click on Restart.

Internet Explorer
1. To start in Safe Mode, click on Start -> Run [Windows Vista/7: Press

+ R], type iexplore –extoff then click on OK.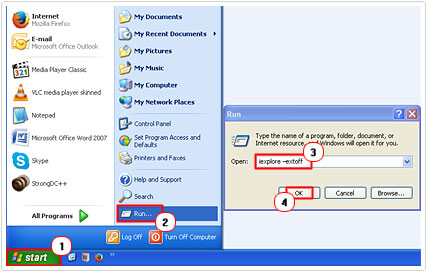 Google Chrome
2. To enter Google Chromes Incognito Mode (which is the equivalent of Safe Mode); click on Start -> Run [Windows Vista/7: Press

+ R], and type chrome.exe -incognito then click on OK.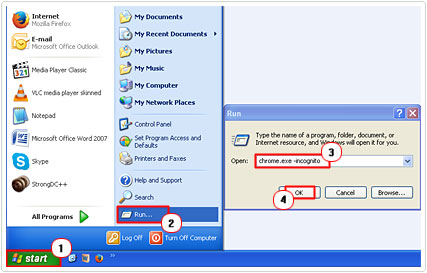 Note: Unlike Windows Safe Mode, you do not have to restart the entire system to enter the browsers Safe Mode.
Try another Browser
If you've been trying to access this specific web page using Internet Explorer, then consider using another browser, such as Google Chrome or Mozilla Firefox. Likewise, if you're using any of those other browsers, consider using another.
If the newly adopted browser doesn't produce the same error message when you attempt to access the same web page, then you know that the problem lies with the browser. In this particular situation, I'd recommend reinstalling the browser at fault.
To properly reinstall the browser, you will first need to remove all traces of the application from your computer. To do this, you will need to use the uninstallation tool called Max Uninstaller, which is capable of not only using the InstallShield to remove the browser, but also running a scan of the registry and operating system to find those redundant files and registry entries. With that said, you can acquire this tool from here:
CLICK HERE TO CHECK OUT MAX UNINSTALLER
Restart Your Router
If the error is due to your computers internet connection, then restarting your router could rectify the problem, as the restart process will assign your system a new IP and Gateway address, for which to access the internet with.
Note: To restart your router, you can do it either by unplugging the device or by logging into it and clicking on Reboot from the options screen. Because the option screen varies from brand to brand, the only advice I can offer you, is to look for a Diagnostic option.
Restart the System
There could be some issues with the way you are connecting to the internet that are affecting your ability to access certain websites. If you're seeing the 502 error on a number of different websites, then restarting the computer could be a viable solution.
Contact Owner of Website
If you've tried all the methods listed above and you're still unable to access the website, then it's more than likely a fault on the websites end. In which case, you may want to think about contacting the owner of the website to inform him/her of the issue. However, there is a strong chance that the owner is already aware of the issue, and thus already working on a solution.
Anyway, in order to contact the site owner, you will need his or her contact details. This can be obtained by doing a WHOIS search. The specific website that I use is: http://whois.net
Simply access that website, and put the domain name into the search box, and click on Go.
Note: It is possible for the site owner to hide his or her personal details.
Contact Your ISP
If you've tried all of the methods above, including contacting the site owner and it's been confirmed that there's nothing wrong with the website. Then contacting your ISP could be a solution. As they have the tools and expertise to fix most faults that exist on your line.
Are you looking for a way to repair all the errors on your computer?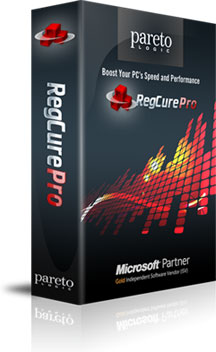 If the answer is Yes, then I highly recommend you check out RegCure Pro.
Which is the leading registry cleaner program online that is able to cure your system from a number of different ailments such as Windows Installer Errors, Runtime Errors, Malicious Software, Spyware, System Freezing, Active Malware, Blue Screen of Death Errors, Rundll Errors, Slow Erratic Computer Performance, ActiveX Errors and much more. Click here to check it out NOW!