Attention
Before you read this tutorial, I highly recommend you check out my resources page for access to the tools and services I use to not only maintain my system but also fix all my computer errors, by
clicking here!
Do you experience error 740 whenever you attempt to run an application in Windows?
Error 740 typically occurs when the end user attempts to run an application within Windows Vista/7/8 or 10 based systems. The primary reason why this error occurs is because the application itself has been configured to 'Run as Administrator', meaning that your user profile either lacks the required administrative privileges to run the application or the system has placed a limit on your account. When it comes to resolving this error, there are several approaches that you can take, you can either attempt to run the application without the necessary privileges, or you can seek to change your user profile status, which should ensure that the program will run without any problems.
Symptoms of Error 740
There are a number of symptoms commonly associated with this error, these are the following:
Error 740 appears, resulting in your current active program crashing out.
When attempting to run a specific application, it'll frequently crash during operation.
The operating system runs very sluggishly, taking a considerable amount of time to respond to both keyboard and mouse input.
The computer will occasionally freeze, for seconds in some instances.
This error (740) can appear while the end user is installing an application, while an application is currently running, during Windows startup phase or shutdown procedure, and in some rare cases while attempting to install the Windows operating system. Noting when and where you encounter error 740, will go a long way when attempting to troubleshoot the problem.
What Causes Error 740?
The error message that end users most commonly see is:
Error (740): The requested operation requires elevation.
As I previously touched on, the problem here is that the computer is having issues with the permissions set for the application you are running, attempting to run or installing. Specifically, this is all down to the User Account Control, which is an integral component of Windows, it's purpose is to control what users can and cannot do within a Windows sessions.
To delve a little deeper, the UAC (User Account Control) will look at the status of your user profile in order to determine whether or not you have the required Administrative privileges or just a Limited account. If it's found that your profile has limited (restricted) privileges, then you'll be unable to alter or run any applications that administrative status.
That said there are other reasons why error 740 is known to occur. These include the following:
A virus has infected your system and corrupted important system files or applications.
The Windows registry has been corrupted due to the recent installation or uninstallation of a program.
The Windows operating system has not installed correctly.
Program knowingly or unknowingly deleted a file integral to another program.
There are a variety of factors that can cause runtime errors such as error 740, so it helps to be mindful of all possibilities, as it will help when troubleshooting.
How to Fix It
The solution you should adopt depends greatly on the cause of the error. If it's a simple user profile privilege issue, then there is equally a simple solution to adopt. However, if the cause is due to the corruption of the operating system, then you'll have to be a little more creative when tackling this problem.
With that said, I've outlined a number of solutions, all of which are highly effective at rectifying this error, regardless of the cause.
Run a Registry Scan
It's not uncommon for error 740 to be caused by a corrupted Windows registry setting, which is why it's important that you consider this angle before anything. Not necessarily because it's the only possible cause, but because it's the most plausible and easiest to rectify, given the realities of the registry. A simply registry scan using a professional registry cleaner should suffice.
A registry scanner is basically a tool that is designed to scan the Windows registry and detect and repair any problems that it finds. The Windows registry is, if you do not already know, the main central database of the operating system, used for storing all the most vital hardware and software settings data. Despite the obvious importance of this area of the computer, it is constantly to blame for a great many errors encountered on our computers, which, fortunately can be repaired by using a registry cleaner tool like RegCure Pro.
RegCure Pro is a multifaceted tool, with both optimisation and windows repair capabilities. Anyway, you can learn more about this tool from the link below:
CLICK HERE TO CHECK OUT REGCURE PRO

The solution(s) below are for ADVANCED level computer users. If you are a beginner to intermediate computer user, I highly recommend you use the automated tool(s) above!
Select Run as Administrator
If there is a particular application that you would like to run, that is showing the error 740 message every time you attempt to run it. Then you should consider using the Run as Administrator option. This method is known to fix this problem in the vast majority of cases. Here is how you do it.
1. First, boot into your computer with full administrative privileges.
2. Then locate the Desktop Icon of the application and right click on it and select Run as Administrator.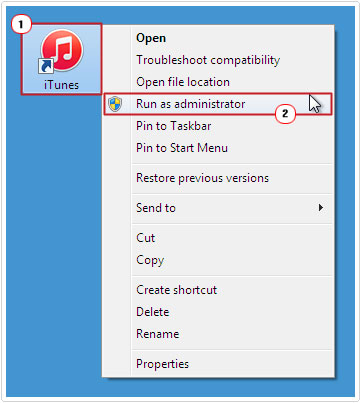 Run Command Prompt as Administrator
If the error occurs when attempting to run a program or tool through the Command Prompt window, then the same rule applies, you'll need to run Command Prompt as an administrator to fix it. You can do that, by doing the following:
1. Right Click on the Start Button and select Command Prompt (Admin) [Windows Vista/7: Start -> Type cmd (into the Search programs and files box) and Right Click on Command Prompt and select Run as Administrator].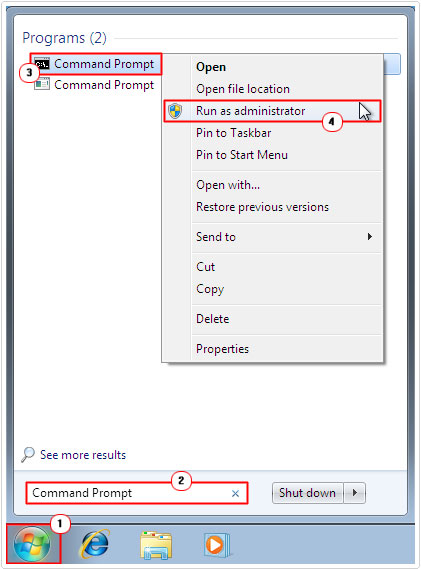 Avoid Future Issues
If error 740 occurs during the installation phase or while attempting to run the application, then it may also occur when the program tries to update itself. Therefore it may be necessary for you to apply administrative privileges to the program every time it starts. To do that, simply do the following:
1. If you are already signed in with administrative privileges, right click on the Desktop Icon and select Properties.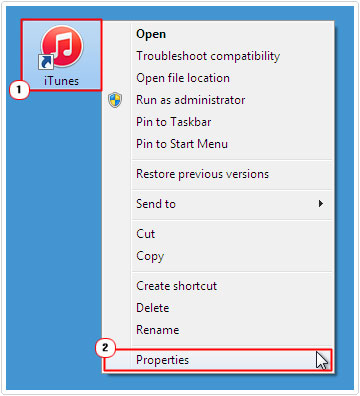 2. When the Program Properties applet appears, click on the Compatibility Tab, then tick the box next to Run this program as an administrator under Privilege Level, and then click on OK.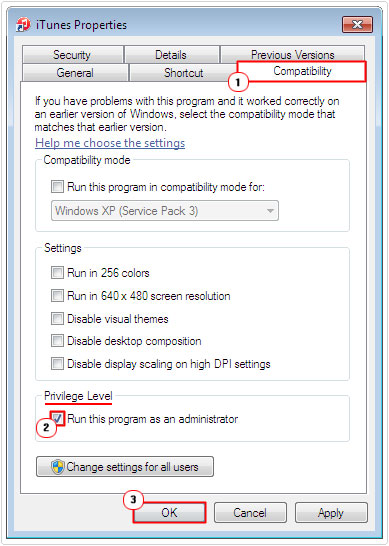 Disable User Account Control
The UAC (User Account Control) component is the area of the operating system tasked with checking your profile information to determine whether or not you have the appropriate privileges to carry out whatever action(s) you are attempting to do on your computer.
An effective way of bypassing having to run the application as an administrator all the time is to disable the User Account Control feature altogether, allowing you to access and run such programs without any hiccups. To do this, simply do the following:
1. First, boot into your computer with full administrative rights.
2. Then Ppress

+ R, type Control Panel and click on OK.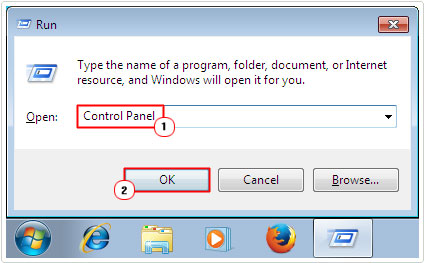 3. Once Control Panel loads up, type UAC into the Search Control Panel box, then click on Change User Account Control settings.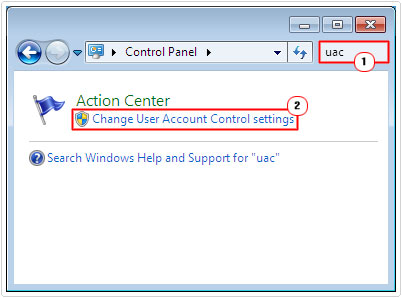 4. When the following screen loads up, move the slider to Never Notify, then click on OK.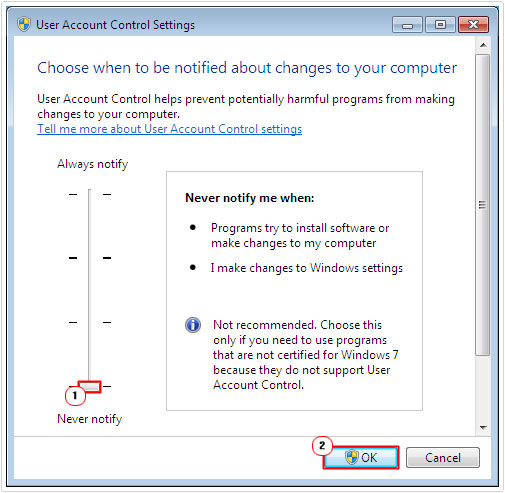 However, if disabling the UAC doesn't work, then the final option will be to reinstall Windows. Reinstalling Windows will typically erase all your data in the process, allowing you to start afresh, additionally; it'll also give you a clean slate, without any of the junk or clutter that was slowing it down before. This can be both a good and bad thing, depending on how important all the data on your system is, to you.
That's why I recommend you use Reimage, as it's capable of reinstalling your Windows files, but without removing any of your personal data in the process. It will reinstall Windows files, scan for viruses, repair damage Windows components and more.
You can learn more about this powerful tool from the link below:
CLICK HERE TO CHECK OUT REIMAGE
Are you looking for a way to repair all the errors on your computer?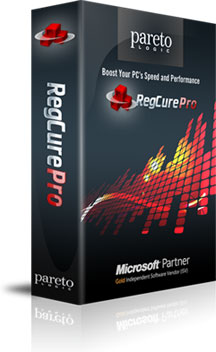 If the answer is Yes, then I highly recommend you check out RegCure Pro.
Which is the leading registry cleaner program online that is able to cure your system from a number of different ailments such as Windows Installer Errors, Runtime Errors, Malicious Software, Spyware, System Freezing, Active Malware, Blue Screen of Death Errors, Rundll Errors, Slow Erratic Computer Performance, ActiveX Errors and much more. Click here to check it out NOW!