Attention
Before you read this tutorial, I highly recommend you check out my resources page for access to the tools and services I use to not only maintain my system but also fix all my computer errors, by
clicking here!
Hotspot Shield is a service aimed at all user levels, from basic to advanced VPN operators. Hotspot Shield comes with its own free version, which of course has its own limitations, however this opens up the opportunity for users to try the service out, before making any commitments. That said, the real question is whether or not this service is for you, and that's what I hope to answer in this review.
Hotspot Shield was created by AnchorFree, which is a company based in USA. This means, if you have intentions of using it for high-risk whistleblowing activities, I'd have to stop you right there, because it's probably not a good idea. That said, the company does assure the end user that information about where you've been online is not in any way stored, however, you can never be too sure.
For everyday domestic use, Hotspot Shield should be more than adequate. AnchorFree mentions this services ability to put video streaming right there in front of you, while at the same time being an excellent way to use BitTorrent anonymously. This service comes with a Google Chrome extension, which can be used to quickly switch between different countries, for convenience and efficiency sake.
Features
Hotspot Shield as a service and tool has a number of features that sets it apart from its competitors, these are:
| | |
| --- | --- |
| | Secure WiFi Connectivity: This service will ensure all personal data is encrypted, so that you can surf the internet safely, irrespective of where you are. |
| | Anonymous Browsing: Hotspot Shield VPN doesn't keep any logs of your online activity, which means you get to surf the internet both privately and anonymously. |
| | Unblock Proxy: Hotspot Shield VPN allows you to quickly access previously censored and blocked websites in your country. |
| | Virtual Locations: Access web content from all over the globe due to your ability to select your desired internet location (country). |
| | Unlimited Bandwidth: No bandwidth restrictions mean you can browse the internet worry-free. |
| | Ad-Free Browsing: Use the Hotspot Shield service without those pesky pop-up ads. |
AnchorFree as a company is venture funded by mega corporations like Goldman Sachs, making AnchorFree a privately-held company; such companies tend to be more secure and less intrusive, when it comes to online privacy.
This service has access to servers in 20 countries, including USA, Germany and China. However, in order to switch between the various server locations, you will need an Elite account.
Free users are restricted to just one simultaneous connection, compared to the five for Elite users.
Hotspot Shield is an ALL-PURPOSE VPN service, ideal for anonymous surfing, video streaming and torrent sites. For full access, click the link below:
CLICK HERE TO GET HOTSPOT SHIELD
Privacy
Heading over to the Privacy Policy and Terms and Conditions pages on the Hotspot Shield website, I can say right off the bat that they do a good job in explaining exactly how their service runs.
It explains that certain personal information such as your payment details and email addresses are stored, but are not related to your online activities and connection or browsing data, which is always deleted when you close your VPN session.
However, Hotspot Shield does have an age clause, prohibiting access to only those who are above the age of 18.
This service uses the OpenVPN protocol, which is said to be amongst the very best protocols for this kind of service.
Delving deeper into the security efforts, we find that AES-256 encryption is used to safeguard your data while surfing the web, this is another plus, which should make it more appealing to the masses.
Performance
Hotspot Shield's client software is very compact and easy to get to grips with. The end user need only click on a single button to protect their internet connection and/or change their server location.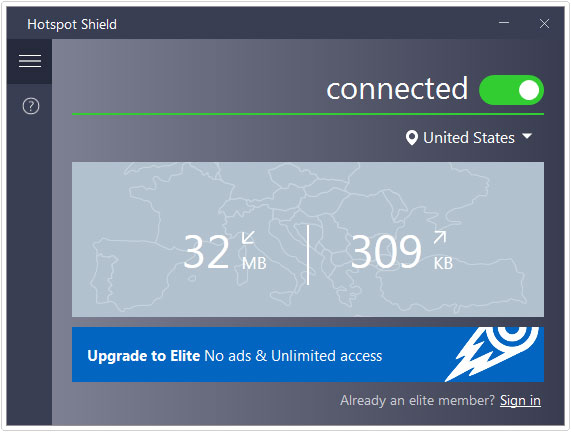 This service also comes with various buttons for your most popular streaming services, such as HBO, Netflix and YouTube. Clicking on any of these buttons will immediately take you to these websites through your browser window.
The Hotspot Shield Elite service has some settings, though not very much. Settings such as "automatically turn on product for unsafe Wi-Fi hotspots, and preventing leaks" are on by default, so there isn't much for you to do on the settings page.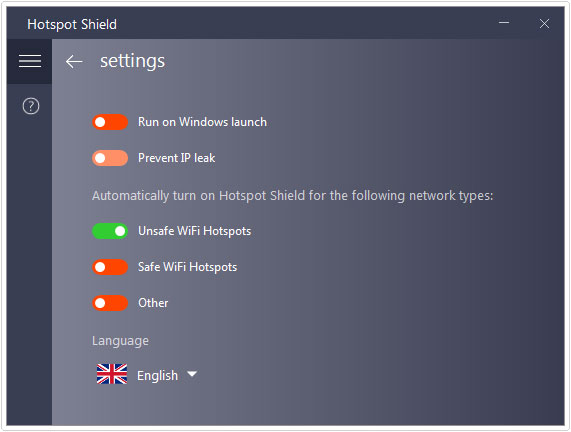 Tests using IPLeak.net shows that Hotspot Shield is very adept at hiding your IP address. WebRTC on the other hand, simply showed an IP address that belonged to the AnchorFree anonymous proxy. This doesn't expose your identity to others; however it does allow sites to know that you are using a VPN, which they can then use to determine whether or not to block you.
The results that I got from the service were excellent, with very little latency (delay), allowing my connection to work at optimal levels, with both upload and download speeds operating at close to 98% of their full capacity while using this service.
Mobile App
Hotspot Shield features its own mobile app, for free of course, which automatically activates the VPN when certain applications, such as your internet browser, are launched. This will allow you, for example, to watch YouTube videos through a server in USA, while based in the UK. Similar to the desktop application, users can connect through USA for free. To re-route your virtual location (country) to any of the other 19 countries, you will need a paid account. Hotspot Shield also gives you the option to funnel your regular mobile data through the VPN, in addition to the traffic coming through a secured or unsecure wireless network.
Hotspot Shield's free solution is funded by ad revenue, and on your smartphone, that can be rather bothersome. When disconnecting from the network, the whole screen can be completely overtaken by ads, which can go on for quite a lengthy period of time. For free users, you'll also be inundated with banner ads, which will pop up from time to time on the main interface.
The mobile app provides very clean notifications, which makes it easier for the end user to know when he/she is and is not connected to the internet via the VPN.
Pricing
For those of you who are averse to splashing the cash, Hotspot Shield offers a free version, offering unlimited anonymous surfing; however, as is to be expected, this free version has its own set of limitations.
End users are given access to only one server location, which they cannot choose, random dropouts is also common, leading to constant change in locations, this makes it virtually impossible to use for streaming. If you attempt to use it to access sites like Netflix, Hulu and iPlayer, the service will prompt you to upgrade to the Elite version.
Support
Customer support is always a big issue when dealing with any product on your computer. Hotspot Shield offers fairly decent support, using a ticket-based support platform, in addition to a knowledge base and FAQ page.
End users can also access Hotspot Shield support through social media, with a fairly active Twitter, Facebook and Google+ profile page they can connect with.
The ticket-based system is known to take anywhere from 6 – 24 hours per response, which is why I recommend end users exploit all options, rather than depending exclusively on the ticket system.
What I Like
| | |
| --- | --- |
| | Very affordable pricing. |
| | Service supports up to five devices at a time. |
| | Doesn't adversely affect your internet speed when in use. |
| | Hotspot Shield is very easy to use. |
| | Anonymous surfing, allows you to browse torrent sites with little worry. |
Conclusion
One thing that sets Hotspot Shield apart from all its competitors is its price. Most VPNs services tend to hover around the £50/$60 mark for a full year's subscription, whereas Hotspot Shield costs less than half that. That is great value for your money, and it allows five devices to use the service at any one time. Because it's based in the USA, I wouldn't use it for whistleblowing in the US, which is understandable. That said, as a general-purpose VPN service, I say it sits head and shoulders above the vast majority of what's out there.
If you would like a more safe and secure way of downloading your torrent files, Hotspot Shield is your best option.
Hotspot Shield is an ALL-PURPOSE VPN service, ideal for anonymous surfing, video streaming and torrent sites. For full access, click the link below:
CLICK HERE TO GET HOTSPOT SHIELD
Review Overview

Features

Ease of Use

Pricing

Reliability & Support

Hotspot Shield is efficient, affordable and secure, ideal for all purposes, and computer users of all levels.

RECOMMENDED
Are you looking for a way to repair all the errors on your computer?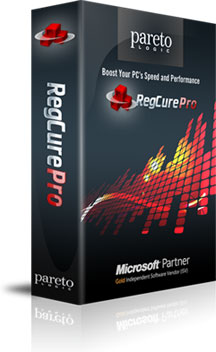 If the answer is Yes, then I highly recommend you check out RegCure Pro.
Which is the leading registry cleaner program online that is able to cure your system from a number of different ailments such as Windows Installer Errors, Runtime Errors, Malicious Software, Spyware, System Freezing, Active Malware, Blue Screen of Death Errors, Rundll Errors, Slow Erratic Computer Performance, ActiveX Errors and much more. Click here to check it out NOW!