Attention
Before you read this tutorial, I highly recommend you check out my resources page for access to the tools and services I use to not only maintain my system but also fix all my computer errors, by
clicking here!
The vast majority of us spend our time online downloading files. We spend a considerable amount of time downloading applications, songs, movies and pictures.
It's only after, maybe, months of downloading that we begin to notice our hard drives filling up, as our drives report, less and less free space – the result of reckless downloading. The drawbacks of having a filled up hard drive are numerous, with fragmentation being an issue in addition to severe degradation to system performance. So what are our options? Well, for many of us, we may decide it's time we purchased another hard drive, this way; we could transfer some of the files on our primary hard drive to our new secondary hard drive. This secondary hard drive may be external or possibly flash based; the options available to us are pretty plentiful.
However, despite all of these given options, at the end of it all, it seems we're always left forking out money. So for those of us on a budget, we result to deleting files that we no longer need, however, this comes with the potential risk of deleting something that may be important. With all of that said, there is still a better option – that is, to delete the duplicate files on your computer.
There are tons of reasons why you may have duplicate files on your computer. However, the most common reason is due to media content. Whether you mistakenly downloaded the same image/picture twice, or you accidently renamed a media file resulting in you downloading multiple copies of the same movie or audio file through torrent software. All of this has a negative effect on your computer's hard drive. If you've never checked for duplicate files on your hard drive before, then you'll be very surprised when you finally do. Deleting these duplicate files from your computer can free up a considerable amount of space.
How Can You Delete Duplicate Files?
Wondering how to delete duplicate files? Well, there's the very tedious option of looking through every folder on your computer for any duplicate files. Then there's the more reasonable option of using Windows search to locate files on your computer that have the same name. This still can take a considerable length of time. However, if you would like to manually locate and delete the duplicate files on your computer, then follow these steps.
1. First, ensure you've logged into your computer with administrative rights.
2. Then click on Start -> Search.
3. This will load up Windows Search Results, from here, click on Pictures, music, or video.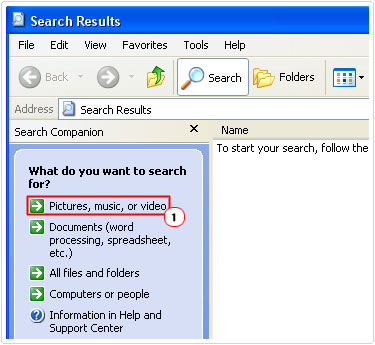 4. This will bring you to an additional search option, from here, check the boxes next to Pictures and Photos, Music and Video, then type *.* into the box labelled All or part of the file name: then click on Search.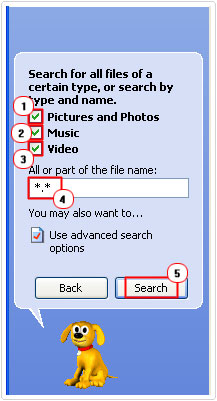 Note: Make sure your results view is set to details; this can be done by clicking on View -> Details.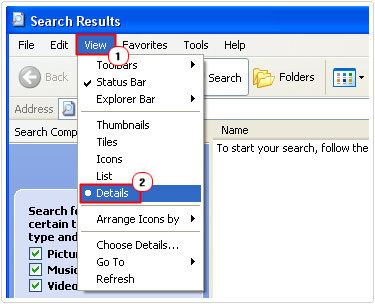 When you click on Search button it will commence a search for all the pictures, videos and music files on your computer.
5. Once it's finished search, click on Name, in the search window.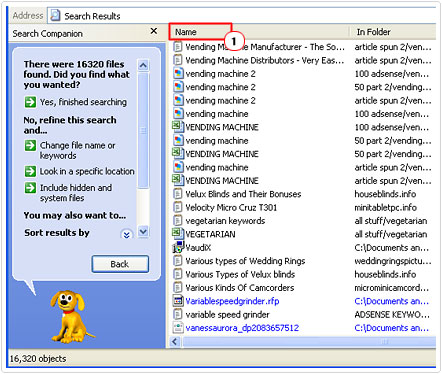 Note: This will alphabetically/numerically arrange the results. From here you can scroll down and delete any duplicate files you see by right clicking on it and selecting Delete.
6. Once you've done that, repeat this same process, but this time click on Documents (word processing, spreadsheets, etc.)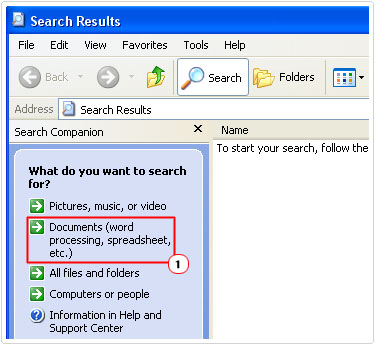 Although this isn't the most effective way of removing duplicate files on your computer, it is one method that you can use, one that actually works. However, the main drawback of this method is that it doesn't cover your program files or the registry. If you don't know what the registry is, it's basically a database system that is used for storing all your Windows options and settings; because of its obvious importance, if it were to become corrupted, it could result in disastrous results for your computer. For removing duplicate entries within your registry, specialised file removers called registry cleaners are used. For more information on these particular programs, I suggest you check out RegCure Pro, here: http://www.compuchenna.co.uk/go/regcurepro
With all of that said, it is possible for you to remove the many duplicate files and entries from both your personal and program folders.
The good thing is that there are a number of programs available that you can use for deleting these duplicate files. There are file removers that are focused on removing specific kinds of files, such as images and videos, whereas others may focus exclusively on sound files.
A Good Duplicate File Remover
Any duplicate file remover that you consider using should come with a number of basic functions, such as the ability to scan document files on your computer. However, this is probably the only feature you're likely to find on most file removers, as many of them lack the ability to search program files, only finding duplicate files amongst your documents and media content. The very best file removers will be able to search every aspect of your system, freeing up more hard drive space while increasing the overall performance of your computer.
Here are a few programs that I think you should consider:
Auslogics Duplicate File Finder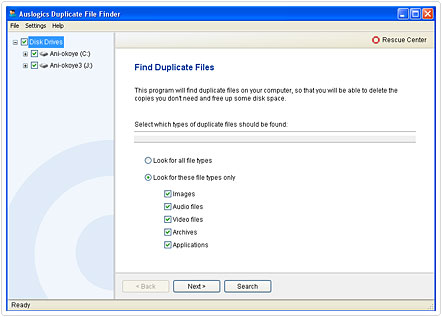 The interface of this program is very simple and easy to get to grips with. All users have to do is specify where they want the program to search, whether it's the entire drive or specific folders within that drive; then set the file types you would like it to find, then click on search. After its finished scanning, it will present you with a list of all the duplicate files on your computer and give you the option to choose which ones you want deleted and which ones you want left alone. Auslogics Duplicate File Finder can be downloaded separately or it can be accessed through Auslogics BoostSpeed as one of the many tools you get with this all-in-one maintenance suite.
You should have no problems installing and setting it up, I highly recommend it to all users, whether beginner or expert, as you'll find it very useful. Anyway, I suggest you pick it up here as part of Auslogics BoostSpeed: http://www.compuchenna.co.uk/go/boostspeed
Duplicate Files Finder
This specific tool will search your computer for files that have the same content in them, which may not necessarily have the same file name, it then presents the user with the ability to either remove or keep these duplicated files that it has found. It's a very simple program, but it does what it does, very well.
This program will only locate files that it finds to be identical. The program works by first sorting all the files on your system by their actual size, then comparing the content of the files that are of the same size. This means, it struggles with identifying duplicate images and audio clips, however, it's excellent at finding other file types.
Because of the efficiency of its built in algorithm, Duplicate Files Finder operates significantly faster than most file removers out there. Anyway, you can pick this program up here: http://doubles.sourceforge.net/
Fast Duplicate File Finder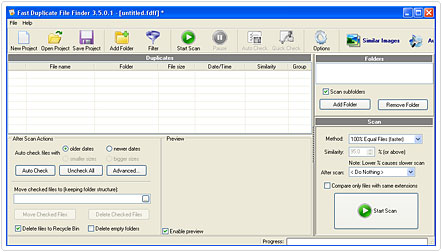 This particular file remover is built on an advanced algorithm that compares the actual content of a file, on a binary level, which means it's not limited solely to file size, filename and the various other attributes that most other tools use to locate duplicate files.
This tool has the ability to locate files that are similar to each other, but may not necessarily be 100% identical. As is the case with all duplicate file removers, it's very important that you verify every file that it finds before removing it.
You can acquire this program in two versions; however, the Pro version has a significantly larger feature set. With that said, this program is very efficient at finding duplicate files on your system, which is ultimately, all you'll need it for; you can access this tool here: http://www.mindgems.com/
Are you looking for a way to repair all the errors on your computer?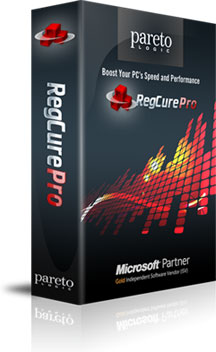 If the answer is Yes, then I highly recommend you check out RegCure Pro.
Which is the leading registry cleaner program online that is able to cure your system from a number of different ailments such as Windows Installer Errors, Runtime Errors, Malicious Software, Spyware, System Freezing, Active Malware, Blue Screen of Death Errors, Rundll Errors, Slow Erratic Computer Performance, ActiveX Errors and much more. Click here to check it out NOW!