Attention
Before you read this tutorial, I highly recommend you check out my resources page for access to the tools and services I use to not only maintain my system but also fix all my computer errors, by
clicking here!
The igfxsrvc.exe process is an integral component of the Intel graphics accelerator and on-board graphics chipset drivers. Although not nearly as powerful as the more notable Nvidia and AMD graphics cards, these on-board graphics media accelerators are able to produce a fairly impressive gaming experience. This particular process is supported on a wide range of Windows based operating systems, such as Windows XP/7/8/8.1. This process supports a number of different features for your accelerator graphics device, such as anti-aliasing and complex shading which increases the level of realism while gaming.
Igfxsrvc.exe is of course a digitally signed process, which means it has been tested by Microsoft to work flawlessly within a Windows environment.
The default location for this process is the following:
C:\Windows\System32\
Igfxsrvc.exe is a non-system process, which means it is not required by the operating system for it to run. Despite that, it is still a fairly important process.
Is Igfxsrvc.exe Harmful?
The igfxsrvc.exe process is safe, for the most part, and is thus, unlikely to cause any harm to your computer.
Can You Remove It?
As it is a non-system process (as I previously mentioned), this means it can be stopped, as it is not integral to the operating system. Igfxsrvc.exe is a process developed by Intel and used by the Intel® Common User Interface. In order for you to stop or rather, remove this process, you would need to uninstall the Intel® Common User Interface application from your computer.
Is Igfxsrvc.exe Resource Hungry?
This particular process isn't notable for consuming a great deal of system resources. That said it is important to note that having too many processes running on your computer at any one time can adversely affect your system's performance.
Such affects can be reversed by removing, disabling and stopping redundant processes. All of which is possible through the utilisation of Microsoft System Configuration Utility.
Why Is Igfxsrvc.exe Giving Me Errors?
There are so many different reasons why you may be experiencing problems on your system. The igfxsrvc.exe process is not entirely notable for causing Windows related issues. This process, developed by Intel for their graphics accelerator chipset, is usually preinstalled with the operating system and works by creating that bridge between the graphics card and your display monitor.
That said it's not uncommon for this file to become corrupted or deleted by third-party applications. A malicious file infecting your computer is also capable of causing igfxsrvc.exe errors. Corruption within the Windows registry is also known to cause problems with this particular component, so there are several things for you to think about.
Common symptoms of such incidences involve a flashing display and certain applications refusing to run due to display settings.
Common Error Messages
There are quite a few error messages related to this process that the end user may encounter while using their computer. Of these error messages, the most common are the following:
Windows failed to start because igfxsrvc.exe is missing or corrupt.
Can't find igfxsrvc.exe.
The application failed to start because igfxsrvc.exe cannot be found.
Error loading igfxsrvc.exe. The specified module cannot be found.
How to Fix It
Igfxsrvc.exe errors are not known to be the most complicated to repair, that said, there are a number of different solutions that one can try. That is why I have decided to point out, only those methods that have proven to be effective at alleviating problems with this component.
So, continue reading for those solutions.
Run a Registry Scan
Another possible reason why you may be having problems with the igfxsrvc.exe process on your computer is because of corruption within the Windows registry.
The Windows registry is basically the central database system, used for storing all the most vital operating system data, such as driver configuration data, desktop settings, application data etc. However, this area of the computer is not without its susceptibilities as it is highly prone to corruption. However, when this does occur it can manifest itself in a number of different ways on your computer.
In order to fix the problems within the registry, you will need to run the professional registry cleaner tool RegCure Pro, which is designed to scan, detect and repair conflicts within this area of the operating system. RegCure Pro is also a multifaceted tool, designed to optimise system performance as well as repair system errors, so it's definitely worth having on your computer.
That said, you can download this powerful tool from here:
CLICK HERE TO CHECK OUT REGCURE PRO

The solution(s) below are for ADVANCED level computer users. If you are a beginner to intermediate computer user, I highly recommend you use the automated tool(s) above!
Update Graphics Card Drivers
As I mentioned previously, the igfxsrvc.exe file is associated with the onboard Intel graphics card, so if you are experiencing any problems with this file, the first thing you'd want to do is update those drivers. In order to do this, you will need to go to the official Intel website and locate and download the latest chipset drivers you find there. Then install it and verify that it has fixed the problem.
Alternatively, if you lack the required expertise to locate, download and install these drivers, then you can use the driver updater tool called Smart Driver Updater. This tool will automatically search the internet, download and install the drivers for you with a single click of a button, making it the more attractive option for novice computer users.
Anyway you can download Smart Driver Updater from here:
CLICK HERE TO CHECK OUT SMART DRIVER UPDATER
The last option you have is to attempt to update the drivers using Microsoft's Update feature. To do this, simply do the following:
1. First, you will need to boot into your computer with full administrative rights.
2. Then press

+ R, type devmgmt.msc and click on OK.
3. Once Device Manager loads up, click on the + icon besides Display adaptors, then right click on your Graphics Device and click on Update Driver.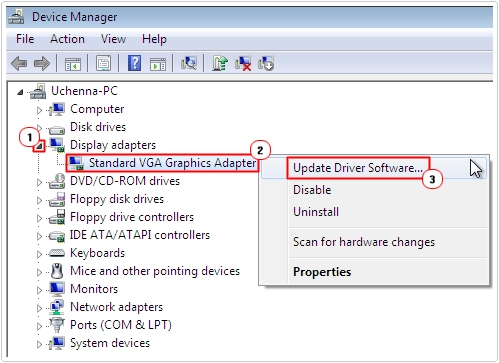 Note: You will need to follow the onscreen instructions to successfully update your graphics card drivers.
This is a method that rarely ever works, due to the limited number of available drivers on the Windows Update server, despite that it is still worth a try.
Run a Malware Scan
Lastly, if after attempting all of the methods above you are still having problems with this process, then there is a good chance that your computer is infected with a malicious file. These malicious files, once on your computer can corrupt, damage and delete important system files. In certain situations, they may corrupt a shared component, prohibiting those processes and applications that depend on that component from work.
That said, I recommend you run a full virus scan of your computer, using your current internet security solution. Alternatively, if you do not have an antivirus program on your computer (for whatever reasons) or if you're interested in investing in a better security solution, then I recommend you check out my post on the best antivirus programs.
Run System File Checker
If updating the drivers for your graphics card solution fails to rectify the issue with your computer, then you should try running System File Checker, which is a built in tool, that is designed to check, verify and replace any damaged or corrupted system files on your computer.
For step by step instructions on how to run this powerful tool, I suggest you check out my post on tackling SYSTEM_THREAD_EXCEPTION_NOT_HANDLED errors.
Are you looking for a way to repair all the errors on your computer?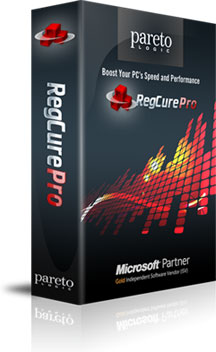 If the answer is Yes, then I highly recommend you check out RegCure Pro.
Which is the leading registry cleaner program online that is able to cure your system from a number of different ailments such as Windows Installer Errors, Runtime Errors, Malicious Software, Spyware, System Freezing, Active Malware, Blue Screen of Death Errors, Rundll Errors, Slow Erratic Computer Performance, ActiveX Errors and much more. Click here to check it out NOW!