Attention
Before you read this tutorial, I highly recommend you check out my resources page for access to the tools and services I use to not only maintain my system but also fix all my computer errors, by
clicking here!
The Kernel_Data_Inpage_Error is a blue screen of death (BSOD) error that is also known by the error code 0x0000007A. This particular error message indicates that data from the system Kernel was unsuccessfully read into memory. To put it simply, the operating system was unable to read specific data from the memory.
This can refer to both hard drive and dynamic memory in your RAM.
The Kernel_Data_Inpage_Error will usually halt or close any running applications and in some cases force a system restart.
What Causes Kernel_Data_Inpage_Error
There are so many different things that can cause this error, which makes it very difficult the pinpoint the exact cause. However, of the various causes, the most common are as follows:
Corrupted, outdated or incorrectly configured hardware drivers.
Corruption of the Windows registry due to software changes.
Malware of virus infection has corrupted important operating system files.
Damaged or corrupted memory modules (RAM).
Conflict between two different hardware components.
System files corrupted as the result of software or driver changes to the operating system.
Damaged or faulty hard drive.
There are also a variety of driver, firmware and software issues that can also contribute to this error.
Symptoms of This Error
The symptoms may vary depending on the circumstances that you actually receive the error in. However, the most common symptoms are as follows:
The Kernel_Data_Inpage_Error message appears and crashes the system.
The computer randomly crashes with the 0x7A Stop Error message, every time you run a specific application.
The operating system runs very sluggish, responding to keyboard and mouse inputs very slowly.
The system will periodically freeze, for a number of seconds, during use.
The system is halted with the following error message: STOP Error 0x7A: KERNEL_DATA_INPAGE_ERROR
In most cases, individuals report experiencing this error, right after installing a new application or hardware component, these BSOD error messages may also appear while using an application or during the installation process. You could also encounter this error while attempting to install a new hardware driver, or while the system is booting up. Taking note of when the error occurs is very important when troubleshooting this particular issue.
How to Fix It?
No matter the cause of this particular error, it's very important that you take immediate action to fixing it, as BSOD errors are known to fester and get worse over time. Total system failure isn't out of the question, if nothing is done to nip it in the bud, early.
With that said, there are a number of different things that one can do to fix this error. Below are some of the more effective methods, individuals have reported using.
Use SpeedyPC Pro
SpeedyPC Pro is one of the latest PC registry repair tools available in the online marketplace with a number of powerful functions, such as an antivirus scanner, registry cleaner, and system stabiliser.
This particular tool is the ideal solution for the vast majority of PC repair issues.
The inbuilt functionality of this tool enables it to effectively detect registry errors and issues that are specifically trigging the Kernel_Data_Inpage_Error, and repair them.
This registry repair tool will remove all junk files from your system including temporary files and internet history files, for all the latest internet browsers. Clearing up disk space, this will not only decrease the incidences of errors, but will also speed up your system.
This registry cleaning will also make the necessary changes to your registry to account for missing files and recently removed applications, which are known to causes driver and system issues.
Hardware faults are typically the result of continuously installing and removing drivers to similar components, on the same computer.
SpeedyPC Pro works on all of the current Windows versions, such as Windows XP/Vista/7/8. You don't need much expertise to use this tool, simply install it and click on start scan and it will do its magic.
It is an efficient, yet safe, multifaceted tool, which can and does repair a plethora of computer issues.
You can learn more about this tool here:
CLICK HERE TO CHECK OUT SPEEDYPC PRO
Run a Virus Scan
There is a good chance that the error you are receiving is due to a malware or virus infection of your computer. These malicious applications are capable of corrupting, erasing and damaging important system files. Thus, there's a chance the file, required by a specific hardware component has been corrupted.
With that said, it's highly recommended that you run a full virus scan of your system, using your latest virus scanner. If you don't have an antivirus tool on your computer, then I suggest you use SpyHunter, alternatively, you could check out my post on the best antivirus tools.
For more information on SpyHunter, check out the following link:
CLICK HERE TO CHECK OUT SPYHUNTER
Update Hardware Drivers
The Kernel_Data_Inpage_Error can sometimes be related to an outdated or corrupted hardware driver. A driver can work perfectly one day, and start to give you problems, the next. That's why it's important that you keep your hardware drivers up to date.
Identifying the exact hardware driver that is causing the error, can prove to be quite difficult. Even for users that are experienced at locating, downloading and installing drivers, the process can be time-consuming and annoying, and if you accidently install the wrong driver, it can open up a whole host of additional problems.
For the sake of time and simplicity, it's highly recommended that you use a driver updater, such as Smart Driver Updater, as it will automate the entire process.
Smart Driver Updater will update the drivers of all the devices in your computer; not just the ones associated with the error. With a simple one-click system, it will ensure that you have the right driver versions of all your hardware components, and will also create a backup, so that you can easily revert back to the old driver, in the event some unforeseen event occurs.
With that said, if you would like to download Smart Driver Updater, visit the following link:
CLICK HERE TO CHECK OUT SMART DRIVER UPDATER
Note: It's possible that updating all your device drivers will not fix the error; however, updating your drivers will have a positive impact on the overall performance of your system.
Repair Windows
This is another method that I highly recommend. This should only be attempted in the event that the previous methods fail to repair the error. That said, depending on the method you choose, you could lose all the data on your computer.
You can perform a clean installation of Windows, to do that you will need the original Windows CD/DVD. Simply put it into the CD/DVD tray and restart your computer.
Make sure you format the hard drive, before installing a fresh copy of Windows.
However, there is an alternative to this method, which doesn't result in you losing all your personal data, and that is through the use of a Windows repair tool called Reimage. This powerful tool is capable of reinstalling your entire operating system on the fly, with a simple click of the button, without you having to use a Windows install CD, or any sort of expertise.
Anyway, for more information on this tool, I suggest you visit the following:
CLICK HERE TO CHECK OUT REIMAGE

The solution(s) below are for ADVANCED level computer users. If you are a beginner to intermediate computer user, I highly recommend you use the automated tool(s) above!
Run Chkdsk
Check Disk is a built-in Windows based error correction tool. Running this tool can be rather time consuming, and you won't be able to use your computer while it's running. With that said, this tool can be very effective at repairing system errors, in additional to recovering bad sectors.
Thus, I highly recommend you run this tool. For more information on how to do this, check out my tutorial on repairing an I/O device error.
Use Disk Cleanup
Over time, as you install and uninstall applications from your computer, and surf the internet, junk files will begin to build up. If you do not regularly clean out these junk files, then it can adversely affect the performance of your system, which can ultimately lead to errors. Removing these junk files from your system, may not only fix the error, but also enhance the overall performance of your computer.
You can run this tool, by doing the following:
Note: Disk Cleanup, though an excellent tool, will not completely remove every junk file from your system. Junk files generated from other applications such as Microsoft Office, Skype, Chrome browser and various other applications will be spared.
Because of the deficiencies of this tool, it's highly recommended that you use a specialised cleanup tool, like ParetoLogic Privacy Controls. An excellent tool that is highly proficient at removing junk files from your system. With that said, for more information on this tool, visit:
CLICK HERE TO CHECK OUT PARETOLOGIC PRIVACY CONTROLS
1. First, boot into your computer with administrative rights.
2. Once the system loads up, click on Start -> Run, type c:\windows\SYSTEM32\cleanmgr.exe /X Drive and click on OK [Windows Vista/7: Start -> Type c:\windows\SYSTEM32\cleanmgr.exe /X Drive (into the Search programs and files box) and Press Enter].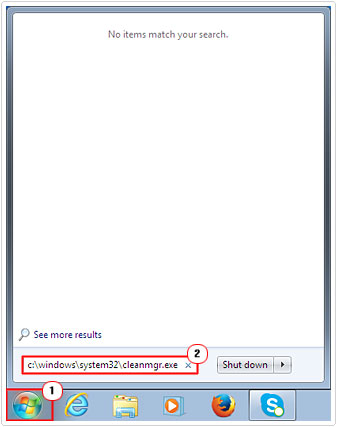 Note: Replace X with the letter of the drive, you would like to cleanup.
3. Once Disk Cleanup loads up, make sure all the check boxes are ticked in the Files to delete area, and click on OK.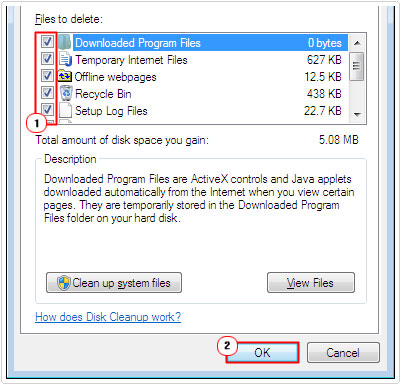 Run System File Checker
System File Checker is another built-in tool that is designed to scan and replace damaged or missing Windows system files. Files that could be contributing to the BSOD error you've battling with.
For more information on how to successfully run this tool, I suggest you check out my post on repairing Winsock errors.
Use System Restore
With Windows System Restore, you can restore your operating system back to a period, before you started experiencing this error. This is an excellent way of fixing this error, as it could potentially save you hours of painstaking troubleshooting.
For more information on how to utilise this excellent feature, I suggest you check out my tutorial on using Windows System Restore.
Test Your RAM
Another fairly common reason for this error is faulty or damaged memory modules. In order to determine whether or not the memory modules in your computer are working correctly, you will need to run a memory diagnostic tool.
There are many of these memory diagnostic tools around that you can use to complete this task. For more information on them, I suggest you check out my tutorial on stress test tools.
Alternatively, if you're on a Windows 7 (and above) based system, then you can use the built in Windows Memory Diagnostic tool. To use this tool, simply do the following:
1. First, boot into your computer with full administrative rights.
2. Once in, click on Start -> Type Memory (into the Search programs and files box) and Press Enter.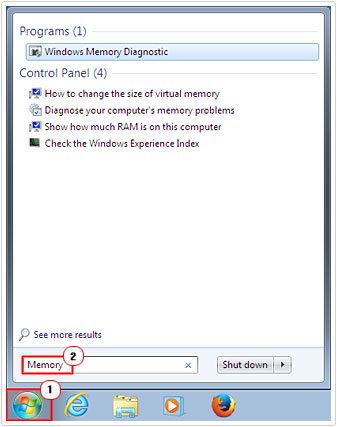 3. A Windows Memory Diagnostic dialog box will pop up, simply click on Restart now and check for problems.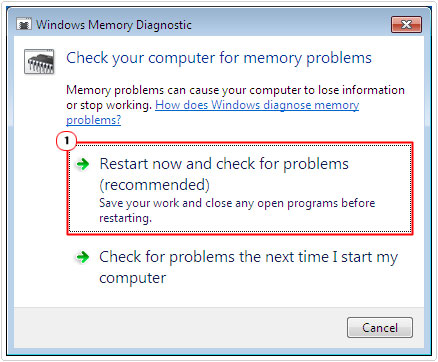 4. Then system will reboot and automatically start the Windows Memory Diagnostic tool.
Disconnect USB Devices
One method that has proven to be quite successful at lowering the prevalence of this error is the removal of redundant USB devices.
If you have any USB devices connected to your computer, that you are not actively using then you should consider disconnecting them, as they will continue to draw power from your computer, which will adversely affect systems stability.
Note: This method is unlikely to fix the error, although it may decrease its prevalence.
Are you looking for a way to repair all the errors on your computer?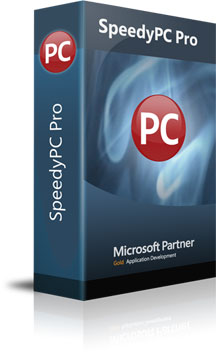 If the answer is Yes, then I highly recommend you check out SpeedyPC Pro.
Which is the leading registry cleaner program online that is able to cure your system from a number of different ailments such as Windows Installer Errors, Runtime Errors, Malicious Software, Spyware, System Freezing, Active Malware, Blue Screen of Death Errors, Rundll Errors, Slow Erratic Computer Performance, ActiveX Errors and much more. Click here to check it out NOW!