Attention
Before you read this tutorial, I highly recommend you check out my resources page for access to the tools and services I use to not only maintain my system but also fix all my computer errors, by
clicking here!
Looking through Windows Task Manager it's more than likely that you accidently stumbled upon the mobsyc.exe process running in the background and would like some information on exactly what it is. Alternatively, you may be dealing with an issue related to this process, either way; in this post I will be talking about exactly what it is, how to disable it and how to repair issues related to it.
How Does Mobsync.exe Work?
Mobsync.exe is a process developed by Microsoft for the purpose of enforcing group policy for removable storage devices. It basically allows certain applications, such as Image Import Wizard and Windows Media Player to be able to synchronise and transfer data using a removable storage device such as an external hard drive or USB stick.
Mobsync.exe is a part of the Offline Files and Sync Center feature of Microsoft Windows. These features allow for SQL Server installations, Windows Mobile Phone with ActiveSync and the synchronisation of your web pages on your internet browser for offline viewing.
Mobsync.exe stands for Mobile Synchronisation, a component of Internet Explorer web browsers, allowing for offline web page synchronisation of email messages, documents, calendars, all of which will be stored locally, allowing you to access such information, even when not connected to the internet.
The default storage location for the mobsync.exe file is the following:
C:\Windows\System32
Despite the many advantages of this component, it's not without its drawbacks, and many people cite its annoying aspects, such as it being run automatically at boot-up, it synchronising all the pages you last visited online, without your consent. Fortunately, it is possible for you to disable it.
Common Mobsync.exe Symptoms
As if there weren't any more reasons why you may want to disable this component, there are a number of common symptoms associated with this file.
The mobsync.exe file will continuously run Windows Media Player, without your consent.
When attempting to use Mobsync.exe (Microsoft Sync Center) the computer will constantly freezes.
When mobsync.exe is running in the background, it may cause the system to pause intermittently.
Cause of Mobsync.exe Issues
The mobsync.exe component is designed to handle a number of different file types, which means the problem(s) associated with this component may be the result of other files that mobsync.exe is working with.
Mobsync.exe is also highly susceptible to virus attacks, much like any other common Windows component, which typically leads to a plethora of different problems for your computer. Malicious files, such as viruses, adware, spyware and malware are capable of artificially altering reference points in .exe files. This may not be immediately apparent to the end user until the computer attempts to load the file, which inadvertently runs the malicious code causing the computer to freeze etc.
How to Fix It
When it comes to fixing problems associated with the mobsync.exe component, there are several things that can be done, with the most popular being, switching the component off altogether, this is probably the quickest approach to tackling any problems with this component, however, if you depend on, or require this component, then such actions will not suffice.
With that said, I recommend you continue reading for those solutions.
Run a Registry Scan
The main reason why you may be having problems with the mobsync.exe process is because of corruption to the Windows registry. The registry is basically the central database system, where all the most important hardware and software configuration data is stored. Incidences that occur here can manifest themselves in a number of different ways on your operating system.
That said the only way to fix them is to run a registry scan of your system using a professional cleaner tool like RegCure Pro. This tool will automatically scan, detect and repair your registry; it will also optimise your system during this process, making it a multifaceted tool that you should run regularly to keep your computer in optimal condition.
With that said, you can acquire this powerful tool RegCure Pro from here:
CLICK HERE TO CHECK OUT REGCURE PRO
Update Device Drivers
If you're having problems with the mobsync.exe process while attempting to synchronise your Windows data with an external device, then there is a good chance that the problem may be due to an invalid, corrupted or outdated device driver.
To ensure that this is not the case, I'd recommend you visit the official website of your external device and locate and download the most up-to-date drivers for it. Alternatively, you can use the driver updater tool Smart Driver Updater, which can automatically search the internet and download the latest drivers for all the devices connected to your computer, with a single click of a button.
Depending on your level of expertise, I'd recommend you used Smart Driver Updater, which you can acquire from here:
CLICK HERE TO CHECK OUT SMART DRIVER UPDATER
Run a Virus Scan
If you're having problems with this particular component, but would like to use it, i.e. you regularly synchronise data on your mobile phone with your operating system, then disabling this feature is not an option. In this particular case, you may want to look into a possible virus infection being the cause of the problem.
To do this, you will need to run a full virus scan of your system, using SpyHunter, which is currently the best antimalware tool because of its efficiency, ability to detect viruses and also repair previously broken Windows components.
With that said, you can download SpyHunter from here:
CLICK HERE TO CHECK OUT SPYHUNTER

The solution(s) below are for ADVANCED level computer users. If you are a beginner to intermediate computer user, I highly recommend you use the automated tool(s) above!
Disable Offline Files
There are so many reasons why you may want to switch mobsync.exe off. Maybe you have no idea how it got turned on to begin with and would just like to switch it off. Or you could be having problems with it and would like them to stop. The quickest way to switch this component off would be to go into Windows Task Manager -> Processes and highlight Mobsync.exe and click on End Task. However, this will not stop the feature from reloading the next time you restart your computer.
To permanently disable this feature, one needs only do the following:
1. First, boot into your computer with full administrative rights.
2. Then press

+ R, type Control Panel and click on OK.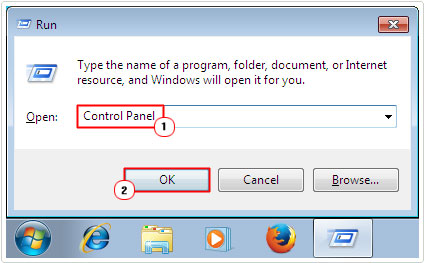 3. Once Control Panel loads up, type Offline Files into the Search Control Panel box and click on Manage offline files.

4. This will load up the Offline Files applet, from here, click on Disable offline files, and then click on OK.
5. Lastly, restart your computer.
Disable Portable Device Enumerator Service
This is, basically another method of disabling the mobsync.exe process. With this method, you're essentially telling the system not to load the service, as opposed to disabling it. So, I guess it depends on which method works best for you. Anyway, to carry out this method, simply do the following:
1. First, boot into your computer system with full administrative rights.
2. Then Press

+ R, type Services.msc and click on OK.
3. This will load up Services, from here, locate and double click on Portable Device Enumerator Service.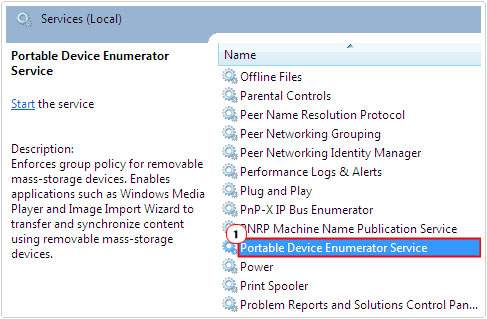 4. This will load up the Portable Device Enumerator Service Properties applet, from here, click on the Stop button (if the service is currently running), then set Startup type to Disabled and click on OK.
This will, as I have previously mentioned, stop the service from being run during startup, however the service will not be disabled, which means, the operating system will load this component when and if you attempt to synchronise your data with an external storage device.
Are you looking for a way to repair all the errors on your computer?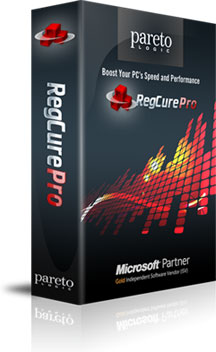 If the answer is Yes, then I highly recommend you check out RegCure Pro.
Which is the leading registry cleaner program online that is able to cure your system from a number of different ailments such as Windows Installer Errors, Runtime Errors, Malicious Software, Spyware, System Freezing, Active Malware, Blue Screen of Death Errors, Rundll Errors, Slow Erratic Computer Performance, ActiveX Errors and much more. Click here to check it out NOW!