Attention
Before you read this tutorial, I highly recommend you check out my resources page for access to the tools and services I use to not only maintain my system but also fix all my computer errors, by
clicking here!
Is MOM.exe a malicious file? In this post I intend to explain exactly what MOM.exe is, how it works, and what you should do, in the event that you encounter any problems with this process.
So, in short, MOM.exe is basically the monitoring program for the Catalyst Control Center, an applet created by ATi Technologies for their graphics card range. Its purpose is to monitor the use of their graphics cards, and also to enable certain functions of these cards. MOM.exe comes with all ATi graphics card drivers from version 7.2 with the Catalyst Control Center and when installed on your computer, will run quietly in the background. While it's not uncommon for individuals to encounter problems, errors with the MOM.exe process, MOM.exe is not a system process, which means, it can be removed without adversely affecting the operating system.
Currently, the MOM.exe process has been replaced with the AMD Radeon Software Crimson, which is the main reason why most users tend to encounter MOM.exe errors on Windows 7 rather than the later operating systems. Windows 10 devices use the latest Crimson driver which offers enhanced performance, and improved settings for video, gaming and display quality options.
You can find the MOM.exe process in the Program Files folder.
Note: If you were to locate this file anywhere else on your hard drive, there is a good chance it could be a virus.
Is MOM.exe Dangerous?
The MOM.exe process can be found in the following location:
C:\Program Files (x86)\ATI Technologies\
As I previously explained, if you find this file in any location other than the one specified above, then there is a good chance that it is a malicious file. There are viruses that pretend to be legitimate processes like MOM.exe; these files usually hide within the System32 folder.
An efficient way of checking the legitimacy of a file is to Right-Click on it and click on Properties, then check its Description. Alternatively, you can scan the file using your antivirus program or an online malware scanner, whichever suits you best.
Can I Stop MOM.exe?
The overwhelming majority of non-system processes can be stopped or removed without causing any harm to the operating system, simply because they are not integral to it. MOM.exe is a component of the Catalyst Control Center, developed by ATi.
If MOM.exe is experiencing a lot of errors on your system, constantly crashing the computer, not working as it should, or is prohibiting other applications from working optimally then you can remove it, simply by uninstalling the ATi Catalyst Control Center, which can be found in the Remove a Program list from Control Panel.
MOM.exe is a vital component of the ATi Catalyst Control Center, which in turn, is a program that is vital for the smooth running of ATi graphics cards. Removing this program, may prevent you from running certain applications, watching specific media files and accessing certain display features.
Is MOM.exe Resource Hungry?
MOM.exe is not a resource hungry process. However, like any process running on your computer, it does consume a noticeable amount of system resources. From the perspective of system performance, you'll always want to keep track of the various processes running in the background of your computer, using Microsoft System Configuration Utility and Windows Task Manager; you can monitor and disable processes you feel are consuming a considerable amount of resources.
MOM.exe Virus
Already touching briefly on this, the MOM.exe is an integral component of the Catalyst Control Center for ATi graphics cards, and it's for this reason that hackers will create viruses and pose them as the legitimate MOM.exe file. The types of viruses they create will usually allow the hacker to record or steal your personal information, delete and corrupt important system files, and adversely affect the performance of your operating system. If the MOM.exe is a virus, then it's likely that it will be hidden within the System32 folder and in some cases the wrong Program Files folder.
When it comes to rectifying the problem, you will need to use some kind of internet security software.
MOM.exe Issues
If your computer is experiencing problems with the MOM.exe process, these problems will usually manifest themselves in the form of error messages and graphics card performance issues. In most cases, you can fix these problems simply by reinstalling the ATi Catalyst Control Center.
Most users that encounter problems with this process, report receiving the following error message:
MOM.exe application could not be started
An error message that will appear quite frequently, becoming a source of irritation for the user; this error will usually occur if the driver installation has become corrupted or if the MOM.exe file was inadvertently deleted. Other symptoms may include the inability to chance certain display settings, such as colour control, digital control etc.
How to Fix It
Because the issues affecting this process will usually affect your graphics card, you'll want to rectify such problems as soon as possible. If you encounter a MOM.exe error, there is a minute chance that it could adversely affect other files and programs on your computer. Files such as CCC.exe and Nwiz.exe are somewhat relatable, as they also belong to the drivers of graphics cards.
When an end user encounters a problem with the MOM.exe process, such as an error message, it's usually possible for them to fix the problem with very little effort, without having to disable or remove their graphics card. The main steps the end user should consider taking, include the following:
Ensuring that the graphics card drivers are up-to-date.
Ensuring the ATi Catalyst Control Center installed is the latest.
Making sure that the .NET Framework installed on the computer is the latest version for the operating system.
Uninstall the Drivers
MOM.exe is not an integral Windows system file, which means, removing the component altogether is a viable option of rectifying any associated problems. In order to do that, the end user would have to do the following:
1. First, boot into their computer with full administrative privileges.
2. Then press

+ R, type appwiz.cpl and click on OK.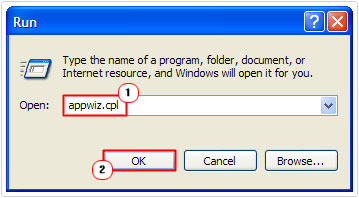 3. Once Add or Remove Programs loads up, click on ATi Catalyst Control Center, and then click on Remove.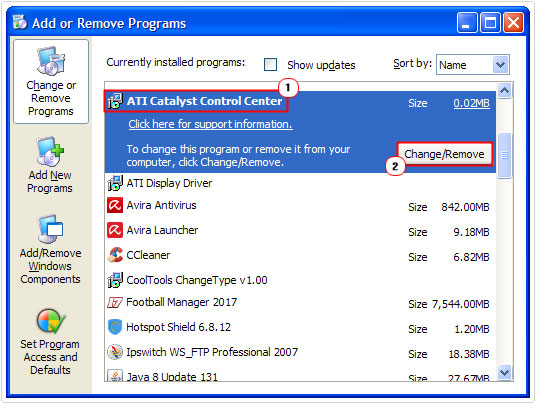 Note: This will uninstall the ATi Catalyst Control Center, which uses the MOM.exe file. However, without this tool, you will be unable to access certain vital functions of your graphics card, such as Dual Display, 3D Accelerator settings, Theatre Mode and more.
Update .NET Framework
The .NET Framework is a very important Windows component, that should be installed and running on your computer at all times. Errors with the MOM.exe process may be due to corruption of the .NET Framework, in the event that, that is the case, you'll want to update it.
You can do that by accessing the following link: https://www.microsoft.com/net/download
Update Drivers
The fastest and easiest way to rectify any and all MOM.exe errors is by simply updating those drivers. In most cases, you'll find that, that is enough to fix the problem.
When it comes to updating the drivers, you have two options. The first is to manually update them, by visiting the website of your graphics card driver and locating and downloading the most up-to-date drivers for it, a task that can be quite tedious and complicated, depending on your level of computer expertise.
The second option involves user a driver updater tool like Smart Driver Updater to automatically locate, download and update those graphics card drivers. Automated updater tools are great in that they update the drivers for all the components attached to your computer via a simple click of a button. Smart Driver Updater also has a built in scheduling feature, which you can configure to automatically update your system drivers once a week, month or whatever timeframe you prefer.
Anyway, you can download Smart Driver Updater from the following link: http://www.compuchenna.co.uk/go/smartdriverupdater
Update Windows
Ensuring your operating system has the most up-to-date security updates and patches on it, is vital to its performance. There is a chance that the issues you're having with this component are operating system related. Thus, a Windows update may be in order.
For more information on how to go about updating your version of Windows, I'd recommend you started with the following link: https://support.microsoft.com/en-gb/help/12373/windows-update-faq
Are you looking for a way to repair all the errors on your computer?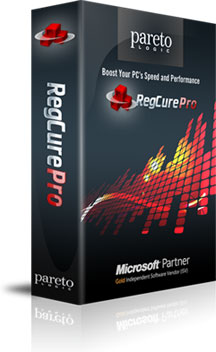 If the answer is Yes, then I highly recommend you check out RegCure Pro.
Which is the leading registry cleaner program online that is able to cure your system from a number of different ailments such as Windows Installer Errors, Runtime Errors, Malicious Software, Spyware, System Freezing, Active Malware, Blue Screen of Death Errors, Rundll Errors, Slow Erratic Computer Performance, ActiveX Errors and much more. Click here to check it out NOW!