Attention
Before you read this tutorial, I highly recommend you check out my resources page for access to the tools and services I use to not only maintain my system but also fix all my computer errors, by
clicking here!
RunDLL errors are quite common nowadays, for this post I will be discussing the Nvcpl.dll error, this particular DLL file is not a Windows system file, which means there are very little implications for your operating system.
To begin with, we must first know what the file is, and why you are experiencing an error with it.
What Is Nvcpl.dll?
Nvcpl.dll is basically a library file for the Nvidia graphics card drivers. It is loaded during system boot up and is integral to the Nvidia Control Panel and the various files that the Nvidia graphic card requires to run correctly.
As I previously stated, nvcpl.dll is a non-system process, which means it originates from third-party software. It's a third-party process, but it's a safe process. Unfortunately, errors with this DLL file are quite common.
Nvcpl.dll Details
The default location for the nvcpl.dll file is the following:
C:\Windows\System32
The file loads during boot up, and entries related to this file can be found in the registry at:
HKEY_LOCAL_MACHINE\SOFTWARE\Microsoft\Windows\CurrentVersion\Run
Is Nvcpl.dll An Essential File?
Nvcpl.dll is not an essential file, and can be removed without causing any harm to your computer. In order to properly remove it, you can choose whether to prevent it from running during system boot up; via the System Configuration Utility or you can uninstall your Nvidia Graphics Card Drivers via Add/Remove Programs.
Nvcpl.dll Error Messages
There is several error messages associated with this file. A common error end users report seeing occurs when they start their system, this consists of one of the following:
Error loading C:\Windows\system32\NvCpl.dll: The Specified module could not be found

Could not start C:\windows\system32\nvcpl.dll
The primary cause of these error messages is an out-dated driver. Fixing this problem is thus fairly simple. The end user need only uninstall their current Nvidia Drivers and download and install the latest Nvidia Drivers for their particular version of Windows.
Nvcpl.dll File Is Missing
A missing nvcpl.dll file is another common issue. If the file has been deleted from your system, then you will encounter one of the following messages:
The nvcpl.dll file is missing
Nvcpl.dll not found
The file nvcpl.dll is missing
Cannot find nvcpl.dll
To rectify this issue, you have several options, one of them entails downloading the nvcpl.dll file from a reputable DLL download site. This method has its pros and cons, however if you should choose this method, then you will need to copy the file to the following location:
C:\Windows\System32
Once you have saved the file on your computer, you will need to register it. In order to do that, you'll have to do the following:
1. First, boot into your computer with full administrative rights.
2. Then press

+ R, type cmd and click on OK.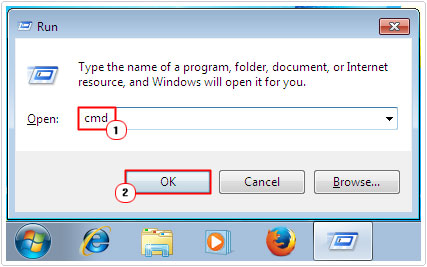 3. When Command Prompt loads up, type regsvr32 nvcpl.dll and hit the Enter key.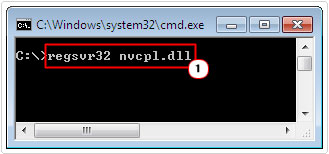 The new nvcpl.dll will then be registered, thus making it visible and accessible to Windows.
Note: Downloading any file, especially a sensitive DLL file can be potentially dangerous. There is a strong chance that the nvcpl.dll file you download is in fact a virus masquerading as the legitimate file. Another important aspect of the process is where you save the file. You do not want to place the file in any location other than the one prescribed above.
Common Cause of Nvcpl.dll Errors
In addition to the two causes I've highlighted above, there are also the following:
Virus Infection
Corruption of the Windows registry
Corrupted Windows installation
Software conflict
How to Fix It
The solutions provided below, should ensure that, not only are you able to fix your current nvcpl.dll error, but are also able to prevent any additional problems in the future.
Run a Registry Scan
The Windows registry is used to store entries to various types of files, including DLL files. If the nvcpl.dll file is either deleted or corrupted, then you will receive an error message. In order for you to prevent a DLL error occurring due to issues within the registry, you will need to run a registry scan. Such a scan will identify and repair any problems it finds within the registry. There are several tools that you can use to do this, but I personally recommend you use RegCure Pro, and that's because of its efficiency and multifaceted nature.
You can find out more about this tool from the following link:
CLICK HERE TO CHECK OUT REGCURE PRO
Run a Malware Scan
One of the most common causes of DLL errors is a virus infection. Malicious files get onto your computer and corrupt files, DLL files, system files, documents and the like. As a result of this, your system may encounter an nvcpl.dll error every time it attempts to access the infected and/or corrupted file. In order to repair this problem, you will need to run a full scan of your system.
For this task, I recommend you use SpyHunter, which is the very best antimalware tool out today. You can learn more about this tool from the link below:
CLICK HERE TO CHECK OUT SPYHUNTER
Update Nvidia Drivers
I've already touched on how a corrupted Nvidia Graphics Card Driver can lead to nvcpl.dll errors. To fix said problems, you can opt to manually download and install the latest drivers for your device, or you can use a driver updater tool, like Smart Driver Updater to automatically search the internet, download and install the latest drivers for not just your graphics card, but all the devices attached to your system.
Depending on your level of expertise, you may find the driver updater tool more accommodating. Anyway, you can acquire this powerful tool from the following link:
CLICK HERE TO CHECK OUT SMART DRIVER UPDATER
Uninstall the Program
If you encounter the nvcpl.dll error right after you've installed an application, then you should consider uninstalling it. A corrupted installation of an application can result in an nvcpl.dll error. If the program conflicts with the drivers or was improperly installed, it can cause errors. To rectify this problem, you should reinstall the application.
For the removal process, I recommend you use Perfect Uninstaller, and that's because its likely fragments of the problem will be left behind, if you attempt to remove it using the InstallShield, and uninstallation process is an integral to the reinstallation.
Anyway, you can acquire Perfect Uninstaller from here:
CLICK HERE TO CHECK OUT PERFECT UNINSTALLER
Once you've removed the problem, you can then proceed with the reinstall.
Repair Installation
If all of the methods above fail to fix the problem, then you may want to consider a repair installation. For this task, I'd recommend you use Reimage, which is a Windows repair tool, designed to reinstall Windows on the fly, keeping all your personal files and programs intact. An important reality, seeing as repair installations do have their drawbacks, with Reimage, these drawbacks are eliminated.
You can acquire Reimage from the following link:
CLICK HERE TO CHECK OUT REIMAGE

The solution(s) below are for ADVANCED level computer users. If you are a beginner to intermediate computer user, I highly recommend you use the automated tool(s) above!
Clean Windows Installation
This method should only be adopted as a last resort. If all the methods above fail to fix the error (which is highly unlikely), then you can try installing a new copy of Windows.
Note: A fresh installation of Windows will result in the full loss of your personal data. So make sure you back everything up, before you attempt this method.
Are you looking for a way to repair all the errors on your computer?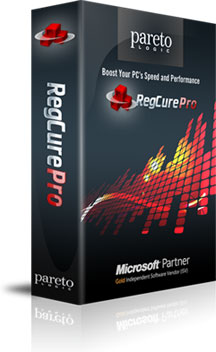 If the answer is Yes, then I highly recommend you check out RegCure Pro.
Which is the leading registry cleaner program online that is able to cure your system from a number of different ailments such as Windows Installer Errors, Runtime Errors, Malicious Software, Spyware, System Freezing, Active Malware, Blue Screen of Death Errors, Rundll Errors, Slow Erratic Computer Performance, ActiveX Errors and much more. Click here to check it out NOW!