Attention
Before you read this tutorial, I highly recommend you check out my resources page for access to the tools and services I use to not only maintain my system but also fix all my computer errors, by
clicking here!
Quickset.exe has the description Quickset and is a process file that was/is developed by Dell Inc. This file is digitally signed, which means it was verified to work smoothly within a Windows operating system environment.
Quickset.exe Overview
Quickset is a process or application that is developed by Dell Corporation to allow the end users to either configure or view a network connection on one of their systems. Additionally, this application also provides the user with power management information. Quickset comes pre-installed with a number of Dell computers and laptop ranges. Despite that, it's not a requirement that this program be actively running on your computer, however it does provide you with a more convenient and easier way of accessing system configuration settings. Through this process one can change their power management settings to make their systems more power efficient.
Additional Information
The most up-to-date version of this application is 8.2.20, with the vast majority of end users using this version. When this application is setup and installed on your computer, it immediately creates an entry within the Windows registry, the purpose of this entry is to set it, so that it automatically starts during system boot up.
It also enables a background controller service, setting it to run automatically, however it is possible for you to alter the startup type of this process. A schedule task is created, through Windows Task Manager, this configures the application to run at various allotted times.
The main executable file for this program is quickset.exe and it is measured to consume around 6.7 MB of memory at any one time. The software installer for this application comprises of around 38 files and is 4 MB in size.
Is Quickset.exe Dangerous?
Ordinarily, this file is safe for your system, and given that it is a digitally signed file, it is also certified to run optimally, within your Windows environment.
Can You Remove It?
Quickset.exe is a non-system process, which means it is not critical to the smooth operation of your computer, and is thus, safe for you to either disable or remove.
A non-system process is basically a process that originates from a third-party application, rather than the operating system itself.
Note: Removing or disabling this process will however, prevent you from accessing certain power management features. However, this shouldn't be much of a problem, since Microsoft Windows comes with its own built-in power management panel.
The best way to remove this service is to uninstall it.
Is Quickset.exe Resource Hungry?
This process on average consumes anywhere from 1% – 2% of CPU resources, which is very small. So no, this process is not resource hungry. That said it is important that you're fully aware of the applications you have running in the background of your computer.
Through the use of Windows Task Manager, it's possible for you to monitor said programs, whereas Microsoft System Configuration Utility can be used to prevent certain applications from running, during system boot up.
The Dangers of Quickset
As this program is relatively common, installed across a wide range of Dell laptops and computers, it would make sense for computer hackers to create viruses, disguised as this process as a means of gaining access to said systems.
To date, there are several malware files that are known to disguise themselves as quickset.exe, typically these files can be found in the following locations:
C:\Windows
C:\Windows\System32
Trojan.Win32.VBKrypt.co and TROJ_VBKRYPT.AG are just two of a number of viruses that most internet security programs are currently aware of.
Thus, this provides a better reason than ever to continuously check the quicket.exe process to ensure that it is legitimate. Other malicious files out there may use a filename that is similar, but with slight differences, such as the introduction of a digit in place of a letter or slight change in the spelling. Looking for these malicious files in the locations I have highlighted above, is always a good place to go, as it ensures your system is free of malicious intent.
Another thing to note is that you should never have more than one instance of this process running in the background of your computer, at any given time. The presence of more than one Quickset.exe process running in the background (which you can see using Windows Task Manager), is usually a strong indication of a viral infection.
Additionally, if you do not have a Dell computer or laptop, but have this file on your computer that is also a red flag.
Common Problems
The Quickset.exe process utilises 100% of CPU resources for an extended period of time.
This issue is known to occur from time to time. Consider updating the Quickset application. However, if the problem persist, you may want to consider disabling the process altogether.
An error with Quickset.exe prevents Internet Explorer from running.
This problem is known to occur due to an incompatibility issue between Internet Explorer, Dell Quickset and Google Toolbar. To get Internet Explorer to run with Quickset still installed on your computer, you will need to uninstall the Google Toolbar; alternatively, you can just remove Quickset.
Run a Virus Scan
If you're having any problems with the Quickset.exe file, then there is a good chance that the problem is the result of a viral infection. These malicious files are capable of invading your system and corrupting and/or removing important system files. Furthermore, there is also that possibility that the Quickset error is the result of a problem within the application itself.
That said you should immediately consider running a full virus scan of your computer. If you do not have an antivirus scanner on your computer, or you're not too confident in your current solution, then I recommend you use SpyHunter, which is an antimalware tool specifically designed to detect and remove such files.
You can download SpyHunter from here:
CLICK HERE TO CHECK OUT SPYHUNTER
Automated Removal Tool
Before attempting to remove Quickset manually, it's highly recommended that you use the automated uninstall tool Max Uninstaller. This tool will automatically back things up, prior to the removal process, which means, using this tool comes at no risk to the user.
Anyway, you can download this tool from here:
CLICK HERE TO CHECK OUT MAX UNINSTALLER

The solution(s) below are for ADVANCED level computer users. If you are a beginner to intermediate computer user, I highly recommend you use the automated tool(s) above!
How to Uninstall Quickset
In order to remove Dell Quickset from your computer system, the end user need only follow the instructions below:
1. First, you will need to boot into your computer system with a user profile that has administrative access.
2. Then press

+ R, type appwiz.cpl and click on OK.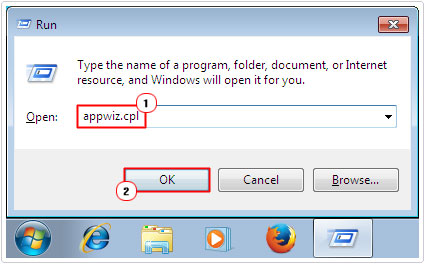 3. Once Uninstall a Program loads up, simply click on Quickset, and then click on Uninstall.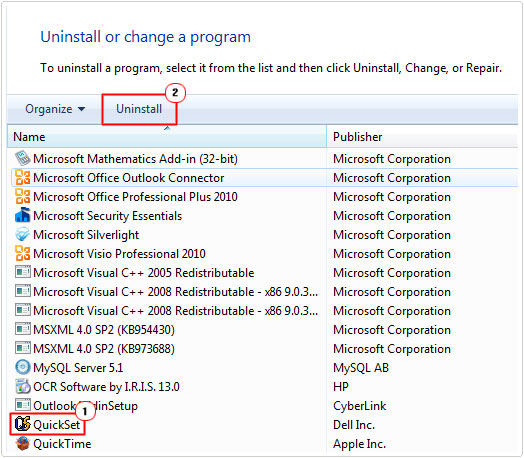 4. Follow the onscreen instructions to successfully remove the application.
Check Quickset.exe has been successfully removed
After you have successfully uninstalled Quickset, restart your computer, and boot back into it with administrative access, then:
1. Open Windows Explorer by pressing

+ R, typing C:\Program Files and clicking on OK.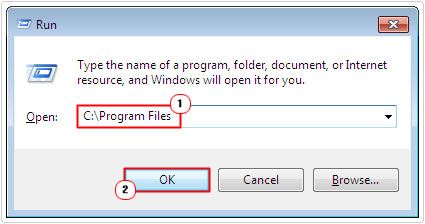 2. Once Program Files successfully opens, check to ensure that Quickset has been removed.
Note: if successfully removed, the Quickset folder should no longer be present.
3. Next you will need to open up the Registry Editor (to check for registry entries), you can do this by pressing

+ R, typing regedit and click on OK.
WARNING: Tread with caution, as you can very easily destroy your operating system if you delete or modify the wrong registry entry.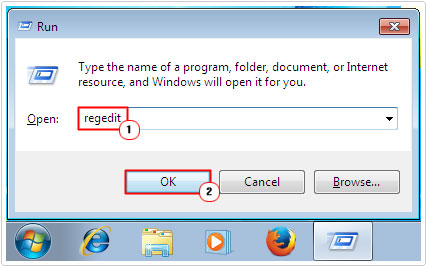 4. Once Registry Editor loads up, click on Edit -> Find.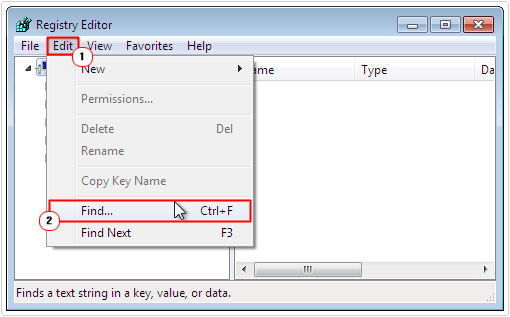 5. This will open a Find dialog box, from here, type Quickset into the Find What box, then click on Find Next.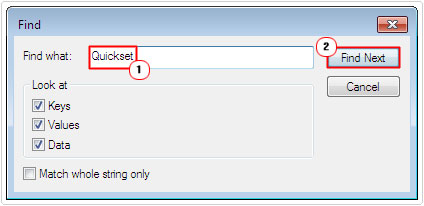 Note: If the application has been successfully removed, it should no longer find references to this application.
Are you looking for a way to repair all the errors on your computer?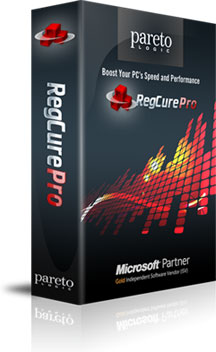 If the answer is Yes, then I highly recommend you check out RegCure Pro.
Which is the leading registry cleaner program online that is able to cure your system from a number of different ailments such as Windows Installer Errors, Runtime Errors, Malicious Software, Spyware, System Freezing, Active Malware, Blue Screen of Death Errors, Rundll Errors, Slow Erratic Computer Performance, ActiveX Errors and much more. Click here to check it out NOW!