Attention
Before you read this tutorial, I highly recommend you check out my resources page for access to the tools and services I use to not only maintain my system but also fix all my computer errors, by
clicking here!
Computers are notoriously known for always slowing down. The reasons why this happens is plentiful, however the most common cause tends to be the result of clutter, due to the installation and uninstallation of application and media files. Although the end user could take it upon themselves to carry out the required maintenance tasks themselves, actually going about doing it can be quite daunting.
Who really has the time to sift through all their personal files and applications to locate duplicates and unwanted data? Not very many, that coupled with the fact that most people really lack the technical expertise to actually do it without effectively messing their system up in the process.
This is where tools like RegCure Pro come in handy. This application was designed to make tuning your computer a breeze. But how exactly does it work and how does it compare to others of its kind? Well in this RegCure Pro review, I intend to cover these most important questions and more.
The Basics
RegCure Pro is for all intents and purposes a fairly simple program. This makes it most ideal for those who are unfamiliar with such tools, how they work and how to use them. RegCure Pro is a tool that was created with the layperson in mind, with everything self-explanatory, easy to understand and to get to grips with. The interface stands out, with its pleasant colour scheme, and everything is made easy to read, due to the straightforward manner in which everything is presented.
The primary component of this program is its main scan. RegCure Pro will scan your system and determine whether any maintenance duties need to be carried out on your system.
However, the main scan is just one of several components built into this tool. A full synopsis of RegCure Pros feature set includes:
| | |
| --- | --- |
| | Registry Cleaning, which removes old and redundant registry entries. |
| | The Improvement to System Boot up Times, by enabling you to prohibit certain applications from loading during start-up. |
| | The ability to Remove Private Browser Data. |
| | Stopping Unwanted Processes, while alerting you to the processes that are consuming an excessive amount of system resources. |
| | Removing Add-ons and Toolbars which unbeknownst to you attached them-selves to your web browser. |
| | An easy to use Defragmenter Tool, which improves hard drive performance. |
| | Customised Restore Point Manager. |
| | The ability to locate applications which can Open Unknown File Extensions. |
| | Detection and Removal of Viruses and Trojans from your system. |

RegCure Pro gives you the ability to decide which components you want to run when you scan your system. So, for example, if you don't want the program to scan your registry, you can switch that component off.
The Tools
The initial scan will carry out a number of checks in the more obvious trouble points on your computer, such as the Windows registry, temporary internet files folder, duplicate files etc. This process, although extension can and typically does go ahead very quickly and smoothly. The rest of the tools can be located in the toolbox area.
RegCure Pro is an Award-Winning multifaceted Optimisation and Repair tool. Gain access this powerful tool from the link below:
CLICK HERE TO GET REGCURE PRO
The Features
When you run your first scan with RegCure Pro, it will provide you with a complete report of all the issues it has found on your computer that are adversely affecting its performance. In order to get the most out of RegCure Pro, you must also take advantage of all its optimisation features, which are: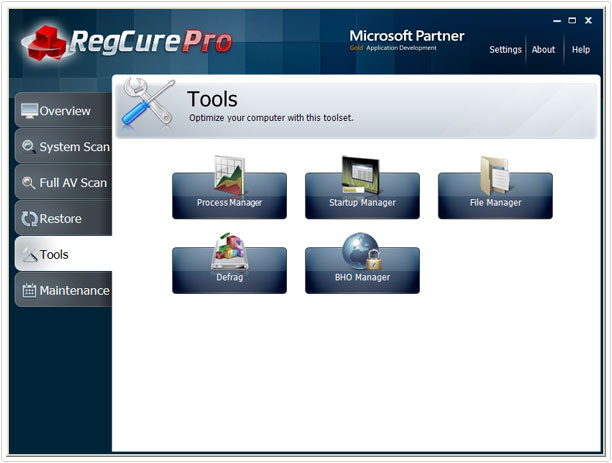 BHO Manager: Through this component, the end user can view all their browser add-ons, and while many of these BHOs do provide value and additional functionality to your web surfing experience, many of these BHOs contain malicious files which inhibit your system. In fact, restricting unwanted add-ons can and does tend to improve overall system stability.
Defragmenter Tool: This component allows you to defragment your hard drive in order to improve its speed and response time. RegCure Pro will first analyse your hard drive(s). Once it has determined that your hard drive(s) require(s) defragmentation, it will encourage you to run the tool.
Process Manager: This component allows you to review all the various process or applications that are running in the background of your computer. This is a vital component of RegCure Pro, as it's the applications you don't see running, that tend to have the biggest impact on system performance.
Start-up Manager: When your computer takes an excessive amount of time to boot up, it's usually the result of various applications attempting to start during the initial boot-up phase. This start-up manager component, allows the end user to limit the number of applications that load during this phase, essentially improving your start-up time.
Installation
RegCure Pro is made available as a fairly small download, comparable to other utility programs out there, with an even simpler installation process. As is typically the case after installing an application, a restart of your computer is in order, but not a necessity. RegCure Pro operates on Windows XP, Vista, 7, 8, and 10, making it accessible to ALL Windows users.
Ease of Use
RegCure Pro is a very easy program to use. Once installed and running on your computer, you are first greeted with several tabs which you can select to carry out various tasks. The interface (as previously mentioned) is clear and pleasant, making it easy on the eye, resulting in a very intuitive user experience.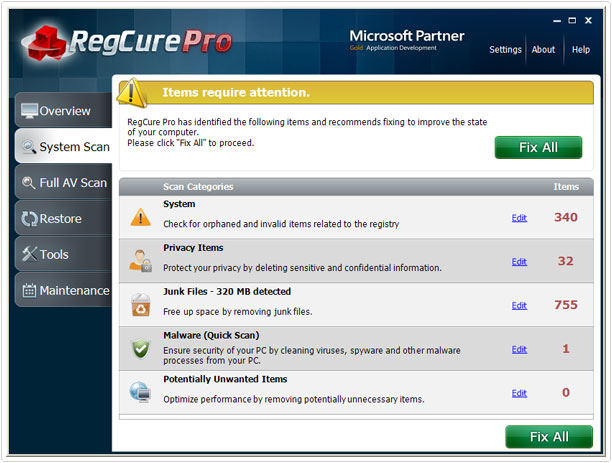 From the screenshot, the end user is presented with a number of different options; Overview, System Scan, Restore, Tools and Settings. The first thing you'll want to do (as I did) is run a regular scan of your system. For my first scan of RegCure Pro, it found in excess of 1800 errors.
Performance
There is no doubt that RegCure Pro is a very powerful tool that is very easy to get to grips with. The 1882 errors that it found on my computer were a mix of temporary internet files, missing DLL files and unwanted startup processes.
Once RegCure Pro completed its first scan of my computer, I was then given the option to either ignore the results or register the product. In my case, I opted to registry the product, so that the tool could carry out the necessary repairs on my system – the whole process took no longer than 90 seconds. After the completion of my first scan I was able to notice a considerable increase in system performance (in excess of 40%), with several of my applications running faster, and my system responding much quicker.
RegCure Pro comes with an additional side tool which allows you to restore your registry back to a previous state, in the event that such repairs end up doing more harm than good, this means your system is NEVER at any risk while using this program. There are also the other tune-up tools, which I have already touched on.
One aspect of RegCure Pro that is rarely ever talked about is its Malware Scan component. RegCure Pro actually has the ability to locate and remove potentially harmful files from your computer. The file extension tool is another excellent add-on, perfect for beginners, as it searches the internet for programs that you can use to open files which were previously inaccessible to you.
Customer Support
RegCure Pro comes with its own integrated email system, which allows you to quickly and easily get in touch with their software engineers, in the event that you experience any errors during or prior to operation. I personally emailed the RegCure Pro team, and they got back to me within only a couple of hours – so response time is very quick.
Common Questions
Is RegCure Pro Safe?
Yes, RegCure Pro (developed by Industry giants ParetoLogic) is a Microsoft Certified Gold Application, which means Microsoft has personally tested the product to ensure that it does not adversely affect your operating system in any way.
Can I Run It Even Though I'm Not a PC Expert?
Yes, RegCure Pro, as I've stated in many instances in my review, is a very simple, easy to use optimisation and repair tool. Documentation is also provided, in the event that you require clarification on certain features. In addition to that, if you get stuck, there is also the support team, that I've personally verified are very helpful and punctual.
Will RegCure Pro Help My System?
If your computer is performing way below its optimal levels, whether that's the result of clutter, a malicious file or corruption of the registry, this program will help you out. RegCure Pro is also adept at repairing registry related errors, such as Windows Installer, Runtime, ActiveX, Blue Screen of Death, and Rundll errors.
Conclusion
One of the main pluses of RegCure Pro is how it combines all of these performance improving and error correcting components into one simple, easy to use tool. After evaluating this tool for several months, I have found that in order to get the most out of RegCure Pro, the end user must take advantage of all the various tools included in this software.
For those of you who have been battling with a slow and sluggish system, a system bogged down either by data corruption, viral infection(s) or various standard errors; this tool may prove to be your saving grace. RegCure Pro will undoubtedly remove the clutter that is inhibiting your systems performance, and with its ease of use, effectiveness and safety, this is a tool that I highly recommend you try out, especially if you're currently dissatisfied with the current state of your system.
RegCure Pro picked up over 1800 errors in its first scan for me, which I feel was very impressive. Just imagine how many errors it could potentially find and repair on your system.
RegCure Pro is an Award-Winning multifaceted Optimisation and Repair tool. Gain access this powerful tool from the link below:
CLICK HERE TO GET REGCURE PRO
Review Overview

Installation

Ease of Use

Features

Customer Support

RegCure Pro is an amazing optimisation tool designed to help maintain and repair your Windows operating system.

RECOMMENDED
Are you looking for a way to repair all the errors on your computer?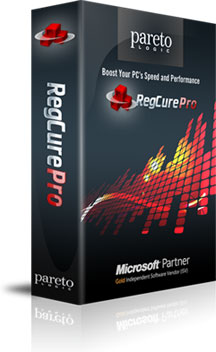 If the answer is Yes, then I highly recommend you check out RegCure Pro.
Which is the leading registry cleaner program online that is able to cure your system from a number of different ailments such as Windows Installer Errors, Runtime Errors, Malicious Software, Spyware, System Freezing, Active Malware, Blue Screen of Death Errors, Rundll Errors, Slow Erratic Computer Performance, ActiveX Errors and much more. Click here to check it out NOW!