Attention
Before you read this tutorial, I highly recommend you check out my resources page for access to the tools and services I use to not only maintain my system but also fix all my computer errors, by
clicking here!
There are a number of ways available to the end user that he/she can use to recover previously deleted files. This is made possible by the fact that deleted files, technically, aren't really deleted, enabling computer users to recover said data, providing they use the appropriate software. But what if, data recovery is not what you want? Maybe you have some file(s) that you would like to delete. These files may contain sensitive or personal information, which you do not want anyone to be able to recover once it has been deleted. In order to do that, you'd have to ensure that your files are not only deleted, but also overwritten in a manner that makes the files unrecoverable. This is where wiping software like Remo File Eraser comes into the equation, as a tool designed to do just that.
Deleting a partition, formatting a hard drive or simply deleting drive content is not the most efficient and safest way to rid your storage device of its data. If you have ambitions of selling or disposing of your laptop, computer or hard drive, the use of wiping software is extremely important.
Remo File Easer as a tool is an efficient and secure file easing application, capable of shredding sensitive and personal files/folders, by erasing them beyond recoverability. In addition to that, this software is capable of wiping data using a number of different shredding patterns; these advanced patterns ensure that data is properly overwritten.
Features
Remo File Eraser stands out as a top wiping tool due primarily to its array of features. The best of which I have outlined below:
| | |
| --- | --- |
| | Shreds both files and folders, by erasing them from various storage devices, such as memory cards, hard drives and USB sticks. |
| | Allows you to shred files that were previously deleted using its wipe free disk space option. |
| | Remo File Eraser has the ability to permanently remove data from the recycle bin. |
| | This software comes with its own built-in scheduler, which you can use to automatically erase data on a consistent basis. |
| | Remo shreds files very quickly, saving you on valuable time, while setting it apart from its competitors. |
| | End users are given the option to shred either folders or individual files, from a partition. |
| | The clean user interface makes it easier for you to shred single files or groups of files within a Windows environment. |
| | The shredding zone grants the end user drag & drop functionality when removing large batches of files or folders. |
How It Works
Depending on the kind of user you are, Remove File Eraser will shred files from your external or internal drive, or even your mobile phone, digital camera or camcorders memory card, ensuring all data on these devices is permanently removed. This is especially useful, when your intentions are to sell one of these devices.
For the corporate user, Remo File Easer is capable of shredding data from computers and laptops before it has been assigned to a new employee. It's also useful when upgrading or disposing of a company computer.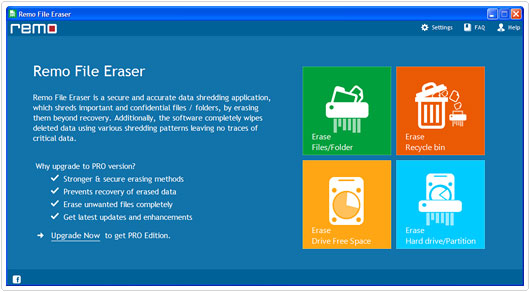 My Experience
When I first used this software, my intentions were to use it to delete several files and folders on my computer that refused to delete, these were essentially program files. These files and folders were made up of an assortment of file types and were quite large in size.
So I installed and run Remo File Eraser and then began the process. I made it a point to use the most advanced erasing pattern, taking into account the available erasing algorithm and their recommended usage. I then ran the software, which successfully removed the folder(s), and then I ran my recovery software. This was done as a litmus test, to ensure that the folder(s) had not only been deleted, but also made unrecoverable.
I carried out this process several times, for all the files and folders I removed from my system, while thoroughly observing the results.
Remo File Eraser is a relatively small program that is capable of deleting several files types and folders. In order to use the software, you need to download and install it (from the link provided). Once the installation process has completely, it will immediately add secure delete options to Windows contextual menu system, making it more easily accessible.
In addition to the new contextual menu options, which become available once you install the software, you also have the scheduling features, which I found to be very useful, as it allowed me to schedule periodic recycle bin deletions – something I regularly forget to do by myself.
Remo File Eraser also supports 13 different deletion algorithms, which include the Gutmann standard which overwrites deleted data 35 times, which is a wiping process that can take a considerable amount of time, depending on the amount of files you choose to delete using this option.
All my tests showed that once the file(s) had been removed, they were no longer recoverable, which is the best that I can ask for.
What I Like
There are quite a few things I especially love about this program, these were the following:
| | |
| --- | --- |
| | A very powerful and efficient shredding algorithm, which allowed me to erase files, folders and previously deleted data from my storage device. |
| | Unused free disk space eraser allowing me to permanently erase previously deleted data. |
| | The built-in scheduler allowed me to erase data at specified times. |
| | Password protection, allowing me to limit access to a select few. |
| | 13 shredding patterns for wiping my storage device(s). |
| | Compatible with all versions of Windows (up to 10). |
Testimonials
There are quite a number of people that have had nothing but positive things to say about this product. After conducting my own research, I found that people generally see Remo File Eraser as a reliable and efficient tool.
Below are some of the screenshots I came across that highlights the many positive things that people had to say about it: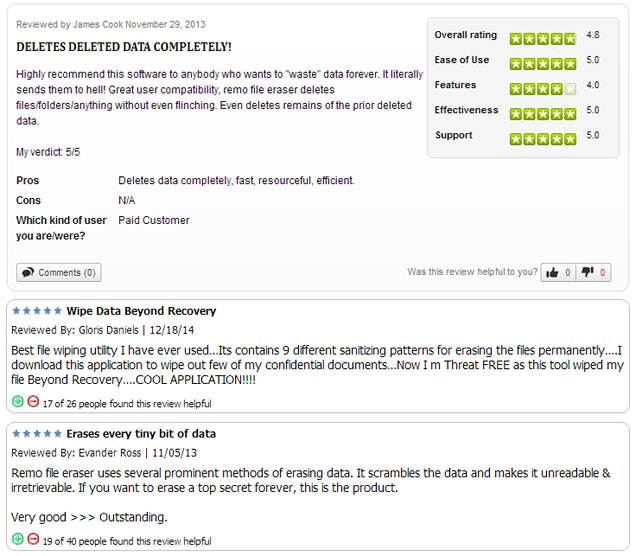 Conclusion
Remo File Eraser is an excellent file shredding tool. It efficiently and effectively erases data from your storage devices beyond recoverability. In addition to that, you can also erase files that were already deleted. Wiping tools come most in handy when an end user has intentions of selling off a storage device or when using a system that has multiple users, this tool works on computers, laptops, and mobile devices and data cards. Wiping free disk space is another excellent feature of this program.
The user interface is very clean and easy to get to grips with. Even beginners should have little difficulty navigating through the many options. Remo File Eraser features 13 different shredding patterns, with a technical support team that consists of phone conversations and live chats. Overall, I'd say it's an excellent utility that you can use to protect both your privacy and data integrity.
Remo File Eraser is the perfect solution to data privacy and confidentiality. For a more secure system, I say, why not give it a try.
Review Overview

Installation

Ease of Use

Features

Customer Support

Remo File Eraser is a powerful and efficient tool, with the ability to shred data using the very best pattern algorithms.

RECOMMENDED
Are you looking for a way to repair all the errors on your computer?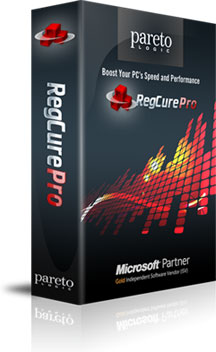 If the answer is Yes, then I highly recommend you check out RegCure Pro.
Which is the leading registry cleaner program online that is able to cure your system from a number of different ailments such as Windows Installer Errors, Runtime Errors, Malicious Software, Spyware, System Freezing, Active Malware, Blue Screen of Death Errors, Rundll Errors, Slow Erratic Computer Performance, ActiveX Errors and much more. Click here to check it out NOW!