Attention
Before you read this tutorial, I highly recommend you check out my resources page for access to the tools and services I use to not only maintain my system but also fix all my computer errors, by
clicking here!
What Is Rundll32.exe
Rundll32.exe is an integral component of your Windows operating system, as it is used to place DLL files into system memory. A DLL file is basically a file that is used by more than one program on your computer. The rundll32.exe file is important in that it makes these files available in memory (RAM) so that the data can be processed by the CPU; this in turn prevents the unforeseeable circumstance of your system being rendered inoperable. It's very rare that people have problems with the rundll32.exe file, but it does happen, hence your presence here.
What Causes the Rundll32.exe Error?
There are a number of reasons why you may be confronted with this frustrating error. It can be anything from the files inability to execute a specific program, a corrupt rundll32.exe file, a viral or malware infection or a Windows integrity issue. The reason(s) you may be experiencing this issue is very expansive, which is why it's not uncommon for people to spend a considerable amount of time trying to pinpoint the exact cause of the error.
However, in most cases, when a person is confronted with this particular error, it's usually due to an invalid or incorrect installation or uninstallation of a program/driver/application; which could be the result of a virus on your system. Again, it can be rather difficult trying to determine the root cause of this problem; this is because of all the potential culprits. Below I have put together a comprehensive guide on the various steps you should consider undertaking while attempting to rectify this issue.
How to Fix the Rundll32.exe Error
You'd be surprised by the amount of errors that can be resolved by simply restarting your system. Perhaps your issue is temporal and the system will rectify itself on a system restart. If you're lucky, then the problem your experience may only require a single reboot. But if the problem still persists after the reboot then continue with the following.
The first thing you're going to want to do is find out which application is running the rundll32.exe file. If you're running Windows XP on your system, then you will have to download a program called Process Explorer. For Windows Vista/7 Users, the ability to see which file is running rundll32.exe is built in Windows Task Manager.
Windows XP
1. First, download Process Explorer from here: http://technet.microsoft.com/en-gb/sysinternals/bb896653.aspx
2. Then extract it to a folder and double click on Procexp.exe to load the program up.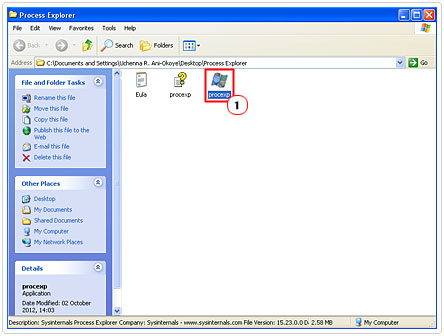 3. Once Process Explorer has loaded, hover your mouse pointer over rundll32.exe to find out which program is running it.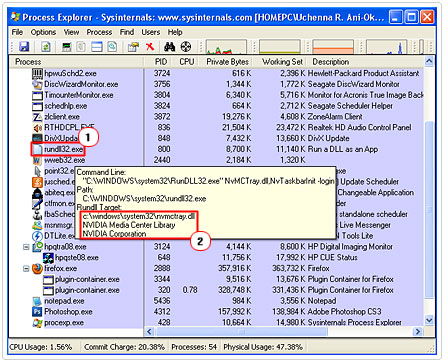 Windows Vista/7
1. First, hold down Ctrl+Alt+Del, and then click on Windows Task Manager.
2. Once Windows Task Manager has loaded up, click on View -> Select Columns.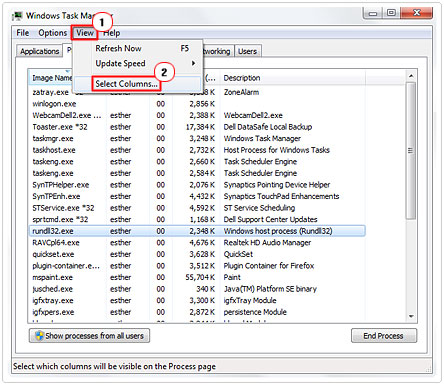 3. This will load up a small dialog box called Select Process Page Columns, from here, scroll down and check the box next to Command Line, then click on OK.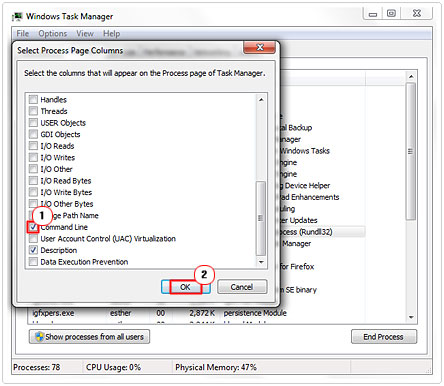 4. If done correctly, you should see a new column called Command Line which you can use to find out where the rundll32.exe file is running from. Position your mouse pointer over the rundll32.exe process in order to find out which program is running it.
Notes
Once you've determined which application is running the rundll32.exe file, fixing the issue may be as simple as uninstalling the program, restarting your computer and reinstalling the program again. These types of errors are typically the result of file corruption or viral infection.
If the rundll32.exe file is not running from the System32 directory, then there is a good chance that you have a virus on your computer, as it's not uncommon for malware to imitate this file. Thus, I recommend you scan your system to ensure it's free of any viral infections. There are a number of anti-malware programs that you can use, but I personally recommend you use SpyHunter, which you can download here:
CLICK HERE TO CHECK OUT SPYHUNTER
You should also run an anti-virus program, which you should already have installed on your system, but if for some unknown reason you do not have one, I recommend you use Paretologic Internet Security, you can grab a hold of it here:
CLICK HERE TO CHECK OUT PARETOLOGIC INTERNET SECURITY
File Association Fix
If the rundll error is a result of a virus and you safely disinfecting your system using the programs recommended above, then there is a chance that your system may lose the ability to run programs.
The symptoms are: whenever you attempt to run a program, the "Open program with?" dialogue box pops up, and trying to run items in Control Panel brings up an error that is very similar to the rundll32.exe issue you were previously saddled with. Anyway, to fix this problem, do the following.
1. You will need to restore your default associations for EXE files; this can be done by downloading this small registry file: http://www.dougknox.com/xp/fileassoc/xp_exe_fix.zip
2. Once the file has been successfully downloaded and extracted to a folder, double click on it, and click on Yes.

Rundll32.exe Not Found Error
A missing or corrupt rundll32.exe file can be repaired using a number of methods. The quickest method is to copy the file from your Windows installation CD to your computers System32 folder. To accomplish this, do the following.
Copy Rundll32.exe File from Windows CD
1. First ensure you've logged into your computer with administrative rights.
2. Then click on Start -> Run, type cmd and click on OK. [Windows Vista/7: Start -> Type cmd (into the Search programs and files box) and Press CTRL + Shift + Enter, then click on Continue]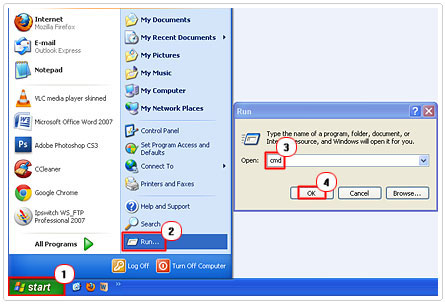 3. Once Command Prompt loads up, put your Operating System CD, into your CD/DVD ROM drive, then type "expand [CD-ROM DRIVE LETTER]:\i386\rundll32.ex_ c:\windows\system32\rundll32.exe" and press Enter.
4. This will copy a fresh, uncorrupted version of the file onto your system.
Download and Copy Rundll32.exe File
If you do not have the Windows installation CD, then as an alternative, you can download the file from the internet and manually copy it to your System32 folder. To accomplish this, do the following.
1. First, download the rundll32.exe file for your OS.
Windows XP: http://tinyurl.com/2dye9z
Windows Vista: http://tinyurl.com/cvm75zu
Windows 7: http://tinyurl.com/bqc5am7
2. Then click on Start -> Run [Windows Vista/7: Press

+ R], type "%windir%/system32" and click on OK.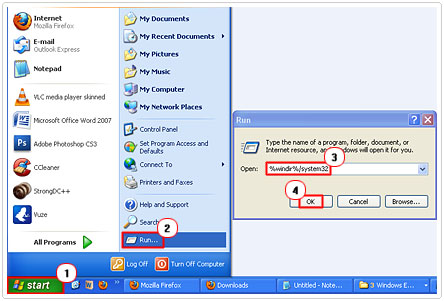 3. This will open up your System32 folder, from here; you'll want to Cut the new Rundll32.exe file (from the folder you extracted it to).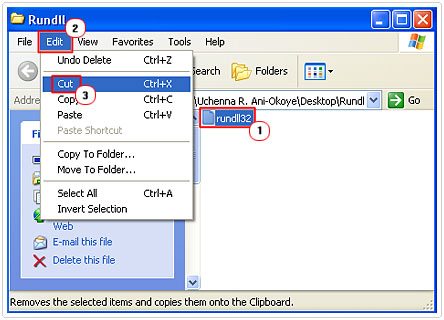 4. Then Paste it into your System32 folder.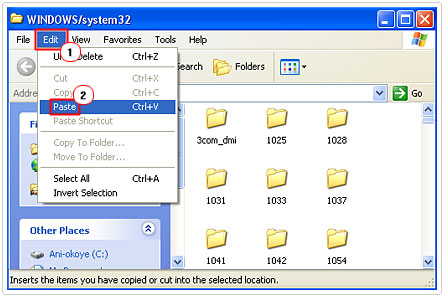 Run a Registry Scan
After successfully copying a new rundll32.exe file to your system32 folder or reinstallation the application at fault, you should run a full scan of your system registry. This should be untaken as a precautionary measure to iron out any additional errors that may be lingering within the registry. Anyway, to complete this task, I highly recommend you download and install RegCure Pro from here:
CLICK HERE TO CHECK OUT REGCURE PRO
It will automatically correct any additional system registry errors that were caused by the rundll32.exe issue.
After successfully following all the steps above, your system should now be free of any and all errors. If the rundll32.exe error still persists, then it's more than likely the result of a hardware fault, which in most cases is the hard drive.
With that said, you now know how to successfully remedy the rundll error. If you're unfortunate to ever experience this error again, you can always refer back to this tutorial. Be sure to bookmark this page and share it with those you feel it will be of most help to.
Are you looking for a way to repair all the errors on your computer?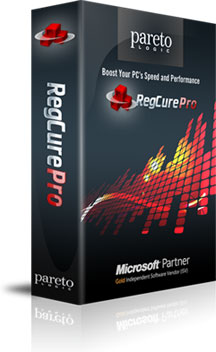 If the answer is Yes, then I highly recommend you check out RegCure Pro.
Which is the leading registry cleaner program online that is able to cure your system from a number of different ailments such as Windows Installer Errors, Runtime Errors, Malicious Software, Spyware, System Freezing, Active Malware, Blue Screen of Death Errors, Rundll Errors, Slow Erratic Computer Performance, ActiveX Errors and much more. Click here to check it out NOW!