Attention
Before you read this tutorial, I highly recommend you check out my resources page for access to the tools and services I use to not only maintain my system but also fix all my computer errors, by
clicking here!
Technology has advanced quite rapidly over the past couple of decades. This has led to it becoming more vital in our day to day lives. If you want your business to flourish, you'll need to stay on top of things, and computer maintenance is just one of those things. Smart Driver Updater comes into the equation as a driver updater tool, designed to ensure all your system drivers are up-to-date and all with a single click of a button. With this tool, you can delete dated drivers, schedule tasks, and check source information.
Overview
Smart Driver Updater is basically an intelligent driver updater tool that provides an efficient and fast driver update solution. It has an extremely large database of drivers, at around 1.2 million, which ranges from hardware components, to peripherals. The built in scanner is very adept at detecting out-dated drivers on your computer, and after it has thoroughly scanned your computer, it will automatically update all problematic drivers on your computer. This in turn will fix any driver-related issues your system is facing.
This tool also has a one-click backup and restore component, which essentially eliminates any risks associated with using this program. With the aid of this tool, you can effectively update the drivers of a whole host of components, such as sound cards, motherboards, keyboards, digital cameras, mice, capture cards, network cards, monitors, modems and much more. One of the best things about this tool is the scheduler, which allows you to set the tool to automatically run at certain intervals. All in all, Smart Driver Updater does exactly what it says on the box, it upgrades your drivers, keeping your system in optimal shape.
Features
Some of the best and most notable features of this tool include the following:
| | |
| --- | --- |
| | A large database of drivers, at around 1.2 million. |
| | A highly effectively scanning engine. |
| | Smart Driver Updater is easy to install and use. |
| | It has a very clean and intuitive interface. |
| | Built-in scheduler ensures your drivers are always up-to-date. |
| | Backup feature eliminates any and all risks on your end. |
My Experience
When I ran this program on my system it was able to find quite a few problematic or out-dated drivers on my computer. From my experience of using similar tools in the past, I'd put the results I received from Smart Driver Updater amongst the very best.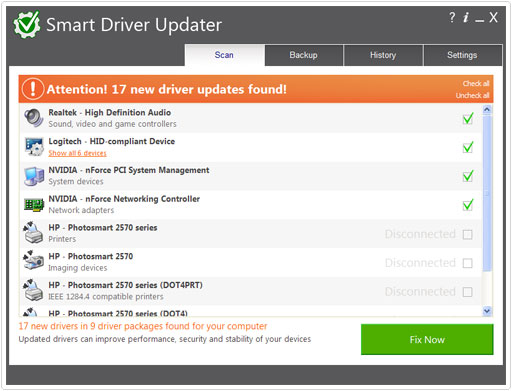 The efficiency of each driver updater tool tends to vary; this is because these tools are highly dependent on the database of drivers available to them. Smart Driver Updater has a huge database of drivers, which is why it was able to give such great results.
Smart Driver Updater is a very smart tool as it not only lists all the drivers that require updating, it also provides outsource details, which the end user can take advantage of, when attempting to locate additional drivers on the web.
Smart Driver Updater is compatible with all versions of Windows.
The first scan is FREE, which means you can run it, evaluate the results, then decide whether or not it's for you, before you take the plunge and buy.
Repairing Problems
When it comes to fixing driver-related issues, we expect driver updater tools to have the latest features and functions, to be able to scan, detect and update ones drivers. The layout for Smart Driver Updater is simple and clean, making it easy to get to grips with. The homepage allows you to access features such as backups, scans etc. like a central hub. In addition to that, all activities are logged in the History section, which you can use to evaluate the performance of the tool, such as its success in finding new drivers and how often you use the tool on your computer.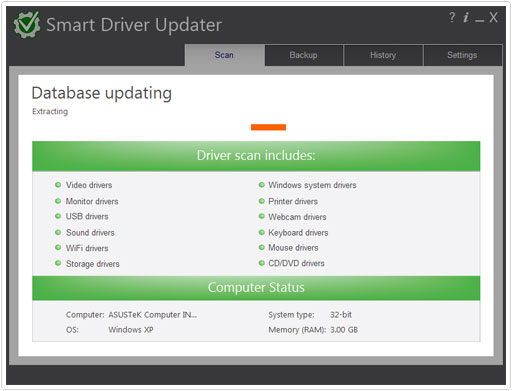 Once the full scan has completed, it immediately gives you the option to evaluate the suggested drivers, allowing you to decide which ones you want to download, and which you do not. When Smart Driver Updater is working, it allows you to check its status, to see whether it's prepared, Downloaded, Installed or Waiting in Queue. This gives you an idea of how long the whole process will take, and of course, there is also the option to halt everything.
Benefits
One of the best things about using Smart Driver Updater is the fact that it only uses OEM update sources. This means you will never have to worry about the tool downloading whether purposely or accidently, faulty and/or mismatched drivers. This tool also doesn't download any bloat-ware on your computer, which is always nice.
Out of all the driver updater tools that I have used, I'd argue that the backing up component of this tool is the most detailed. Most other driver updater tools tend to have a bulk backup feature, which can be very time-consuming especially when you consider that backing up the entire computer is rarely ever necessary. Smart Driver Updater allows you to choose which drivers you want to backup and which you do not. You can also delete drivers, which may be necessary, after you have sold or given away a peripheral, i.e. old printer or camera. The backup feature is very important, because it protects your computer from accidents, which do happen.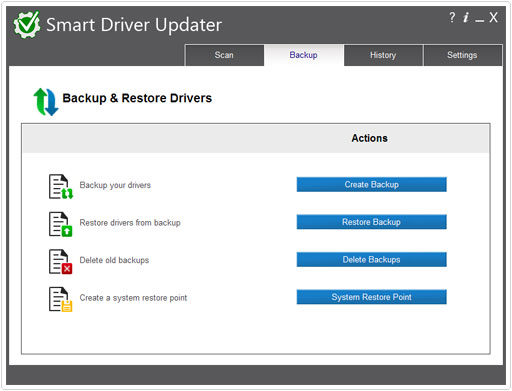 The settings page has a lot of depth to it, allowing you to make tweaks to a number of different options associated with the tool, such as scan schedules, proxy settings and simultaneous downloads. The schedule component gives you a great deal of flexibility.
Help & Support
This tool is pretty impressive and definitely capable; however, on the help and support side, there are no step-by-step tutorials. It's a relatively easy program to use, with its clean, intuitive layout and self-explanatory design, despite that, it's not the most common kind of tool, which may mean that some people will need just a little bit more help. That said it does have its own FAQs section, on the company website. You can also get in touch with their support team via email.
The program has a 30-day money back guarantee, so there's very little risk on your part.
What I Like
| | |
| --- | --- |
| | Smart Driver Updater is very easy to use, with an extensive driver database. |
| | It has its own automatic scan and update feature. |
| | Scheduling periodic scans is very easy to do. |
Conclusion
Whether you're a seasoned professional or something who's just learning the ropes of what it means to properly maintain a computer, Smart Driver Updater makes an excellent addition to that initiative. Out of all the driver updater tools that I have tried, Smart Driver Updater was able to detect the most amounts of dated drivers on my system. The software is very easy to use, and provides a very surprising level of customisation. The backup component also has a lot of depth to it, along with its automatic scans.
Smart Driver Updater is an excellent program for all computer users, irrespective of their experience level.
Review Overview

Features

Ease of Use

Installation

Customer Support

A nice clean and intuitive user interface, stacked with tons of features and a powerful scanning component.

RECOMMENDED
Are you looking for a way to repair all the errors on your computer?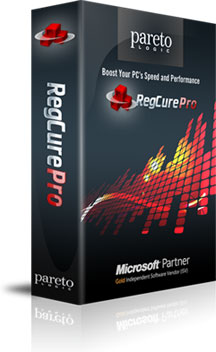 If the answer is Yes, then I highly recommend you check out RegCure Pro.
Which is the leading registry cleaner program online that is able to cure your system from a number of different ailments such as Windows Installer Errors, Runtime Errors, Malicious Software, Spyware, System Freezing, Active Malware, Blue Screen of Death Errors, Rundll Errors, Slow Erratic Computer Performance, ActiveX Errors and much more. Click here to check it out NOW!