Attention
Before you read this tutorial, I highly recommend you check out my resources page for access to the tools and services I use to not only maintain my system but also fix all my computer errors, by
clicking here!
One of the most prevalent and annoying issues that we all face while using our computer systems is malware. These malicious files are typically designed to masquerade as legitimate programs. SpyHunter 4 is a program created by Enigma Software Group for the purpose of finding and removing these malicious files from your computer. But the real question in all of this is whether SpyHunter is really worth your time.
One of the most common questions that individuals ask when SpyHunter 4 is mentioned is whether or not it's a safe or legitimate program. The perception is that more and more people are stumbling upon this powerful program but are not sure whether the program can be trusted. This feeling is understandable, as I've mistakenly installed malicious programs in the past, despite my advanced computer expertise.
So I will start this off by saying that SpyHunter 4 is a program that I have personally used to rid my system of malicious files, and it worked better than anything else I've ever used, till date. SpyHunter is, without a doubt, a legitimate program, developed by Enigma Software, and has been in the market for more than a decade now. Enigma is consistently updating their internet security program with new virus definitions, to keep it fresh and on guard for the latest viruses. Taking a peek on their official website, you will be able to find some really useful information on trending malicious files, in addition to tips on how to safeguard your machine.
My Experience
Computer security is one aspect of my machine that I do not take lightly, so I always ensure that my internet security software is working and most up-to-date.
That said, when it comes to SpyHunter 4, my first real experience with this tool came some time back when my system was infected with a very dangerous virus file. This malicious file hijacked my desktop and prevented me from using the appwiz.cpl (Uninstall a Program) Windows component. This meant, not only was I infected, but I was also unable to remove the program which initially brought the virus that infected my computer.
Unbeknownst to me, I accidently installed a fake program, which inadvertently led to the infection. The sad reality is that, this is how a great many users get viruses onto their systems.
As a result of my situation, I went about running various scans of my system, using a number of different virus scanners, but all to no avail. This is when I stumbled upon SpyHunter 4, I'd heard some good things about it, so I thought maybe I'd give it a try, after all, I had very little to lose at that point.
So I downloaded SpyHunter and installed it on my computer. SpyHunter runs a quick scan immediately after you install it. A quick scan in name only, I might add, because it was very extensive, taking in excess of an hour to complete. With SpyHunter, everything was seamless and easy to use, as the program comes with a very intuitive interface. Everyone, even those fairly new to computing, should have very little difficulty using this program.
After SpyHunter 4 completed its first scan, it successfully located the virus in addition to various other malicious files and programs. After the scan was complete, I simply clicked on the Fix Threats button, and it did the rest.
After a couple minutes and a full system restart, my computer was completely free of the virus. But that wasn't the best part of it, the best part I would say, was the fact that my Windows component appwiz.cpl (Uninstall a Program) had started working again.
That would be the first time that I've ever had an antimalware tool repair a Windows component.
SpyHunter 4 is one of the WORLDS LEADING Anti-Malware Tools. For access to this powerful tool, click the link below:
CLICK HERE TO GET SPYHUNTER 4
Features
SpyHunter 4 comes with a number of different features that puts it head and shoulders above its competition. One of the best features of this tool is its proprietary rootkit detection. Rootkits are a specific type of malicious file that disguises itself as an important system file. Such files then become near impossible for you to remove, as the Windows operating system mistakenly protects the file.
Such malicious files cannot be removed while Windows is running.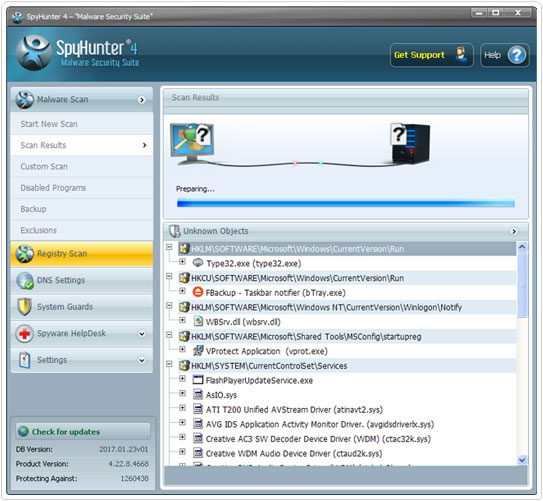 SpyHunter 4 comes with its own unique boot operating system that it can use to effectively eliminate these rootkit infections. It does this by restarting your computer and booting into its own operating system so that it can remove the file.
SpyHunter 4 also comes with scheduling, allowing the end user to schedule weekly; monthly or even daily scans of their computer.
In addition to the above features, users are also given access to the following:
An antimalware tool that is capable of detecting multiple types of malicious files, such as worms, Trojans, cookies, adware, key-loggers and much more.
Excellent customer support. If you're having any problems with your system, you can contact Enigma, through their Help Desk, and they will personally help you fix it.
A 'Compact OS', which I have already touched on, allowing SpyHunter to remove those dangerous rootkits from your system.
Consistent virus definition updates. This is one of the most important aspects of any internet security tool. Daily updates will ensure that your computer is safe from all and any new threat.
System Guard, which will detect and prevent any crucial changes to your system without your express say so.
Custom malware repairs – this is a feature that goes hand in hand with the Help Desk feature. As the Help Desk feature allows the end user to interact with Enigma who can then create a custom fix for your computer, which will repair the problem you're currently experiencing.
Ease of Use
When it comes to ease of use, I'd say I find SpyHunter to be very intuitive, logical and cleanly designed, for both the advanced and basic users.
Every feature of this program can be accessed from the buttons on the left-hand side navigation, a formula that we should all be familiar with and one that works very well. The most commonly used features such as Malware Scan, Registry Scan, DNS Settings and System Guards, are located higher up the page, while Spyware Helpdesk and Settings are located beneath them.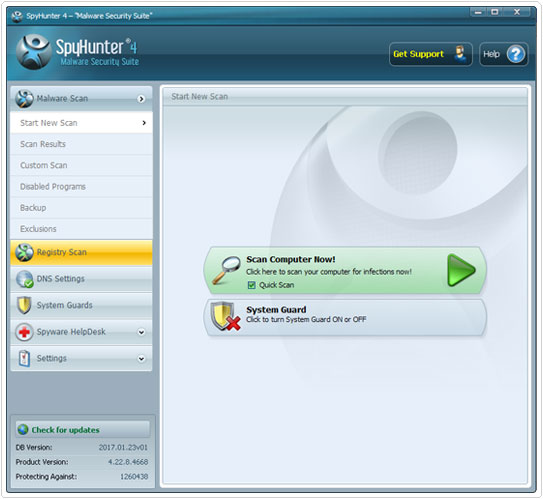 System Performance
While running a full scan of your system using SpyHunter 4, a dip in system performance is noticeable; such is the case with all antivirus tools. However, when the program is not scanning your system, you'd never even know it was running.
This is much more than I can say for the many scanners I've used over the years and a major plus for this program.
Customer Support
SpyHunter 4 comes with its own built-in helpdesk support facility. If for some odd reason SpyHunter is unable to repair your system, it's possible for you to arrange an appointment with their helpdesk, where their technical team can create a custom malware removal plan for your computer. This process works by the SpyHunter program sending a diagnostic report to Enigma, which they will then use to work out how best to fix the problem with your system.
This is the one feature I feel that puts SpyHunter above all the other antimalware tools I've used in the past.
Common Questions
Is SpyHunter 4 Safe?
Yes, SpyHunter 4 is a safe and proficient antimalware tool, designed to detect and remove malicious files from your computer, while safeguarding your system from future attacks.
Does It Scan Your System For Free?
Yes, it is possible for you to download SpyHunter 4, install it and have it scan your system for free. However, this initial scan will only detect the problems with your computer. If you want it to fix the problems it finds, you must purchase the product.
Conclusion
SpyHunter 4 is one tool that I highly recommend. It is a safe and proficient tool that will make short work of worms, viruses, adware, spyware, Trojans and much more, on your system. SpyHunter will find those malicious files that other antivirus scanners miss, and with its System Guard feature, it's more than capable of functioning as a standalone antivirus scanner.
If you like to surf the internet a great deal, then your system will forever be at risk of being infected. This is where having tools such SpyHunter 4 on your computer become a top priority.
I'm a current user of SpyHunter 4, so I'm practicing what I preach. Download it and run your first scan. I assure you, you won't be disappointed.
SpyHunter 4 is one of the WORLDS LEADING Anti-Malware Tools. For access to this powerful tool, click the link below:
CLICK HERE TO GET SPYHUNTER 4
Review Overview

Installation

Ease of Use

Features

Customer Support

SpyHunter is the best antimalware tool I've ever used. After you've installed this tool and ran your first scan, you'll quickly learn why that is.

RECOMMENDED
Are you looking for a way to repair all the errors on your computer?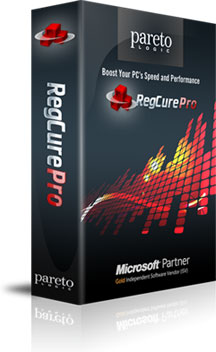 If the answer is Yes, then I highly recommend you check out RegCure Pro.
Which is the leading registry cleaner program online that is able to cure your system from a number of different ailments such as Windows Installer Errors, Runtime Errors, Malicious Software, Spyware, System Freezing, Active Malware, Blue Screen of Death Errors, Rundll Errors, Slow Erratic Computer Performance, ActiveX Errors and much more. Click here to check it out NOW!