Attention
Before you read this tutorial, I highly recommend you check out my resources page for access to the tools and services I use to not only maintain my system but also fix all my computer errors, by
clicking here!
Microsoft Outlook is an excellent email client tool, however despite its many positive virtues; it's not without its own set of problems. One somewhat common and yet, major issue that people encounter with this client software is the PST file error. What makes this error so devastating is the fact that the .pst file is where all the email addresses, attachments, emails, and calendar data is stored.
The odds are that an end user may never experience this particular error, however when one does, the end results can be pretty frightening.
As I previously explained, the PST is where all Outlook data is stored; PST stands for Personal Storage Table, a pretty self-explanatory name. It's not different from any other file you'll encounter on your computer, and it's for this reason that it's so susceptible to problems. This is where Stellar Phoenix Outlook PST Repair comes into the equation, as a tool designed specifically to repair damaged, corrupted or full .pst files. With its clean and easy to use interface, it's all that one needs to rescue themselves from what could potentially be a career frightening situation or just loss of important data.
Like with most tools you'll find on the internet, you can try it out before you commit to it, eliminating any risk to the end user.
Features
Stellar Phoenix Outlook PST Repair is a fairly small program in terms of storage requirements. It also comes available in six different languages, making it a truly international tool.
This tool is compatible with every version of Windows, from Windows XP to Windows 10 and requires the minimum recommended requirement of RAM to run optimally. This tool comes with a number of features which makes it doubly appealing to the end user, especially when compared to its competitors; the Outlook in-built Inbox Repair tool developed by Microsoft being a prime example. The features mentioned below outline the many benefits to using this program:
It's able to scan and restore PST files that have been corrupted.
It can recover ALL the data from a previously corrupted PST file, including Emails, Contacts, Calendar data and much more.
This repair tool features Search Options, which allows you to refine the recoverable data result set.
Stellar Phoenix Outlook PST Repair is able to restore password protected and/or encrypted PST files.
When it repairs your damaged and/or corrupted PST file it will create a new PST file and put all the old data into it.
Recovered emails can be saved in a number of different formats such as PDF, RTF, EML, MSG and HTML. This is especially ideal when you need to export or send your emails to someone else.
What Causes PST Corruption?
There are a number of different things that are capable of causing data corruption. One of the more common causes of file corruption is the improper shutdown of your system, which may be caused by a surge or power outage. Usually files that are currently opened will be damaged or corrupted as a result of it. The failure of a hardware component is also capable of corrupting sensitive data. Another common cause of data corruption is a virus infection. Malware infecting your system is capable of corrupting large amounts of data on your hard drive irrespective of whether it is successfully detected and removed.
Interface
Stellar Phoenix Outlook PST Repair as a tool looks very similar to Microsoft Outlook, this is intentional, as the motivations behind it are to make it more accessible and easier to use. If you use Microsoft Outlook, then you should be able to install this software and get to grips with it right away. The software has a very clean interface, and runs very quickly, from the tests that I have run.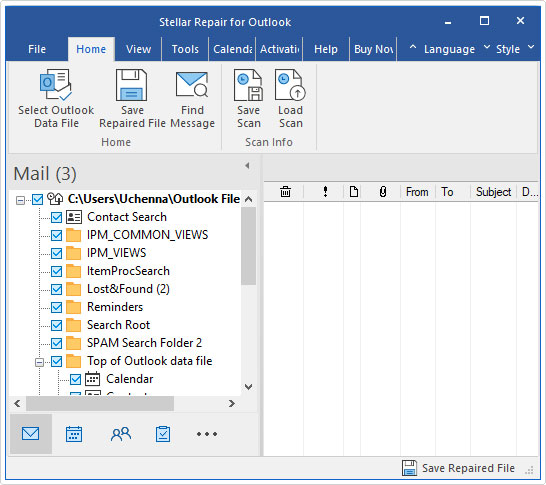 How It Works
This software works very similar to internet security tools, adopting a scan, detect and repair model. The end user need only, install and run the software and it will scan and detect any corrupt .pst files on your computer. It will then determine which aspects of the file are corrupted and need recovering. Once it has done that, it will proceed to repair the file, creating a new .pst file in its stead.
This means once it has finished doing its job, you will not have two .pst files, the first being the originally corrupted file and the second being the recovered file, this helps to eliminate any risks.
What Can It Repair?
Stellar Phoenix Outlook PST Repair is capable of repairing a number of common .pst errors, such as the following:
Outlook.pst cannot be accessed – 0x80040116
An unknown error has occurred. – 0x80040119
PST has exceeded its maximum file limit
Additionally, the software can also help you do the following:
Recover emails that have been previously deleted.
Preserve the HTML formatting in recovered emails.
Testimonials
After further research of this product, I found that there are a substantial amount of people that have had positive experiences with Stellar Phoenix Outlook PST Repair and Stellar Data Recovery products in general. Below are screenshots of just some of the people that have nothing but praise for this software: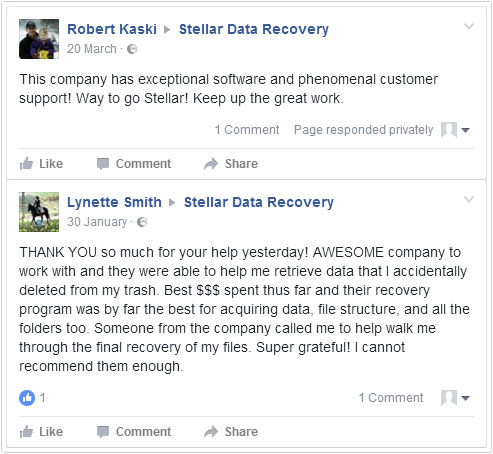 Conclusions
In the past, people would use paper to store their most important data, these pieces of paper would then be filed using a filing cabinet, but with the advent of computers things have change, mostly for the better. Today, people prefer to use digital mediums for storing information and distributing data, whether through electronic mail or messaging services. When you have a lot of sensitive information on your computer (Email Client, My Documents, etc.), it makes sense for you to have some kind of recovery software on your system, in the event that something goes wrong. This is where Stellar Phoenix Outlook PST Repair comes into the equation.
This repair tool is lightweight, very easy to get to grips with, and it will save your day, in the event that you have a PST file disaster. I know just how it feels to have your important data damaged or corrupted, which is why I can understand the importance of this kind of software. If you're currently bogged down with .pst issues, then this is your go to application and even if you're not, you may want to have this tool around, just in case.
Outlook PST Repair is an excellent tool which acts as a viable solution to a somewhat common problem.
Review Overview

Installation

Ease of Use

Features

Customer Support

Stellar Phoenix Outlook PST Repair is a strong, efficient and powerful tool, designed to restore the most important data on your computer. If you're having problems with Microsoft Outlook, then this is your go to software.

RECOMMENDED
Are you looking for a way to repair all the errors on your computer?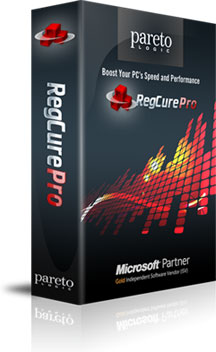 If the answer is Yes, then I highly recommend you check out RegCure Pro.
Which is the leading registry cleaner program online that is able to cure your system from a number of different ailments such as Windows Installer Errors, Runtime Errors, Malicious Software, Spyware, System Freezing, Active Malware, Blue Screen of Death Errors, Rundll Errors, Slow Erratic Computer Performance, ActiveX Errors and much more. Click here to check it out NOW!