Attention
Before you read this tutorial, I highly recommend you check out my resources page for access to the tools and services I use to not only maintain my system but also fix all my computer errors, by
clicking here!
During the boot up phase of your operating system, there is a fairly substantial amount of services that are loaded up, by default. Most of these services are very helpful, but some of them are only applicable to certain working environments, and thus only help to slow your system down. In addition to that, there is also the threat of spyware, malware and Trojan horses, as having all of these services running on your computer, creates more avenues for hackers to exploit.
What Are Windows Services?
A Windows service is basically an executable that is designed to carry out a specific function within the background without requiring any intervention from you, the user. Windows services are highly customisable, as you can configure them to start in the background as the operating system boots up, or you can start them manually, as and when you need them. Many of these services appear in the Windows Task Manager, under the usernames NETWORK SERVICE, LOCAL SERVICE and SYSTEM, although, not every process that shows under SYSTEM is necessarily a Windows services. The other services (that do not show up in the Windows Task Manager) run within the svchost.exe as DLL files.
How to Modify a Windows Service
These services that run in the background have a significant impact on your systems overall performance, therefore, reducing the amount of services that you have running on your computer at any one time, will decrease the amount of CPU usage.
In addition to that, there is also the issue of your system shutting down. The more of these services you have running, the more work your computer will have to do during this phase. Keeping your system streamlined will not only make your computer faster, but it will also make it shutdown much faster.
Here is how you modify services in a Windows environment.
1. First, you want to ensure that you've logged into your computer with administrative rights.
2. Then click on Start -> Run, type services.msc and then click on OK. [Windows Vista/7: Start -> Control Panel -> Administrative Tools -> Services]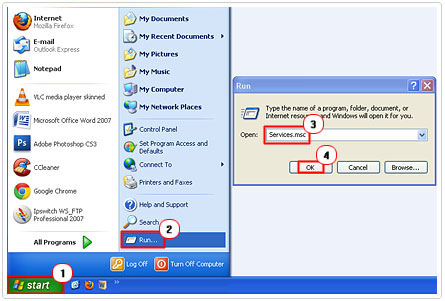 3. This will load up the Services applet; then double click on a Service under Name.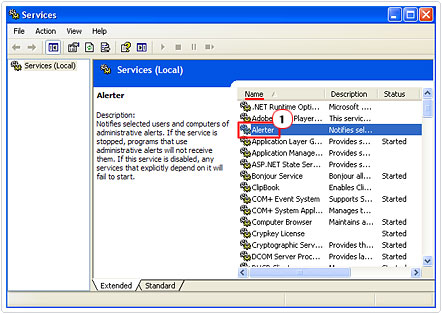 4. On the General Tab, you'll want to click on the downward arrow beside Startup type and then set the service either to Automatic, Manual or Disabled. Then click on Apply and OK, to finish.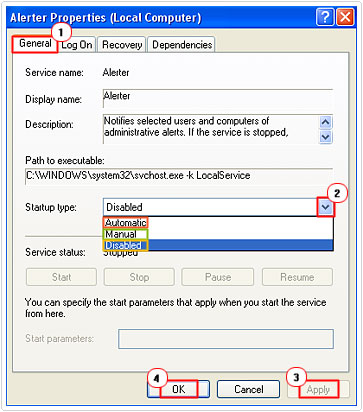 For best practice purposes, it's always best to restart your system after disabling a service, that way you can immediately evaluate the effects that your action has had on your working environment.
Windows Services You May Disable
As I mentioned before, there is that possibility that you could render your system inoperable by disabling the wrong Windows service. Therefore, I recommend that you take extra precautions when disabling services that are currently running on your system. Ultimately, you wouldn't want to just disable all unnecessary Windows services that I have listed below. It'd be best that you stopped maybe one or two services, restarted your system, monitored its effects then proceeded to disable another one or two. The primary reason why you want to do this is that it'll be easier to rollback to your previous settings, in the event that something goes wrong.
In situations where you are unsure, you are probably best setting that specific service to "manual" rather than disabling it altogether, only when you are sure that the service is not required, should you then proceed to disable it.
| | | |
| --- | --- | --- |
| Service | Description | Conclusion |
| Alerter | The alerter service enables an administrator on a network to be able to send messages to users and groups of users within that network environment. This particular service can probably be likened to an instant messenger service in that messages are sent through the network instantly. However, the main difference between your conventional IM like MSN Messenger and the alerter is that with MSN Messenger users are required to download and install software onto their systems, whereas the alerter service is built into the operating system. | If your computer is not connected to a network, then you should disable this service, as you will never use it. |
| Application Management | Application management provides installation services for software, such as Remove, Assign and Publish. It handles requests for the removal and installation of applications that are initiated through a network. This service is only applicable to computers that are joined to a particular domain. | Setting this service to manual is your best option. |
| Automatic Updates | With this service switched on, your computer will occasionally connect to Microsoft's server to check for the latest critical updates and security tweaks for your operating system. However, if you disable this service, you can still update Windows by initiating this process manually. With that said, inasmuch as these updates are helpful, in order for your computer to be totally secure you going to have to invest in an internet security suite. | Disable it if you don't mind manually running Windows Update, from time to time. |
| ClipBook | With this service enabled, it allows the ClipBook Viewer to be able to store data and share it with computers remotely. When turned off, ClipBook Viewer will be unable to share data with remote computers, and services/applications that require this service will be unable to start. | If your computer isn't on a network, then you should disable this service. |
| Cryptographic Services | The cryptographic services are three separate management services, the Protected Root Service which is used for adding and removing Trusted Root Certification Authority certificates from your system, the Catalog Database Service which is designed to confirm the signature of files on your OS and the Key Service which enrols your system for certificates. If you switch this service off, then all of these management components will be disabled; applications and services that depend on these management services will also cease to start. | These services are designed primarily for passing certificates through a network. If your computer is not part of a large corporate network, then you should disable it. |
| Help and Support | With this service enabled, you will be able to access the Help and Support Center. If you stop this service, then you will be unable to access the support center, and applications that require this service to run, will fail to start. | If you don't use the help feature, then you should disable it otherwise you should set it to manual. |
| IMAPI CD-Burning COM | This service manages CD recording using the IMAPI, which stands for Image Mastering Applications Programming Interface. If this service is disabled, then your computer will be unable to record CDs, and applications that require this service to run will also fail to start. | If you have a Rewritable CD ROM Drive, then you should set this service to manual in order to conserve system memory, if you don't, then you can disable it. |
| Remote Registry | With this service enabled, users can modify your computers registry settings remotely. With this featured disabled, only users on your computer can modify its registry, and applications that depend on its functionality will fail to start. | This service, when turned on, poses a serious security risk, so it's best that you disable it. |
| Computer Browser | When turned on, it will maintain a list of resources and computers on the network. When enabled on a large network, one computer on the network will be designated the "master" browser and another one the "backup" browser. The other computers on the network will become available once every 12 minutes in order to resume the role of one of the other two computers, in the event that they fail. | If your computer is not on a network, then you should disable this service. Ironically, you can still browse computers on a network when this feature is turned off. |
| Error Reporting | This service is enabled by default on Windows XP Professional Service Pack 1 and later. The purpose of this service is to give Microsoft a heads-up on specific errors relating applications and components on your computer. The idea was that it would help Microsoft more quickly rectify new Windows related bugs. | It is best you disable this service, since there's no immediately benefit gained from its operation on your computer. |
Are you looking for a way to repair all the errors on your computer?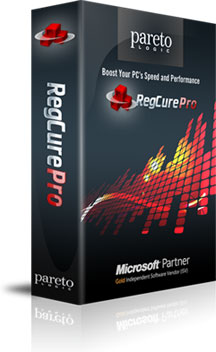 If the answer is Yes, then I highly recommend you check out RegCure Pro.
Which is the leading registry cleaner program online that is able to cure your system from a number of different ailments such as Windows Installer Errors, Runtime Errors, Malicious Software, Spyware, System Freezing, Active Malware, Blue Screen of Death Errors, Rundll Errors, Slow Erratic Computer Performance, ActiveX Errors and much more. Click here to check it out NOW!